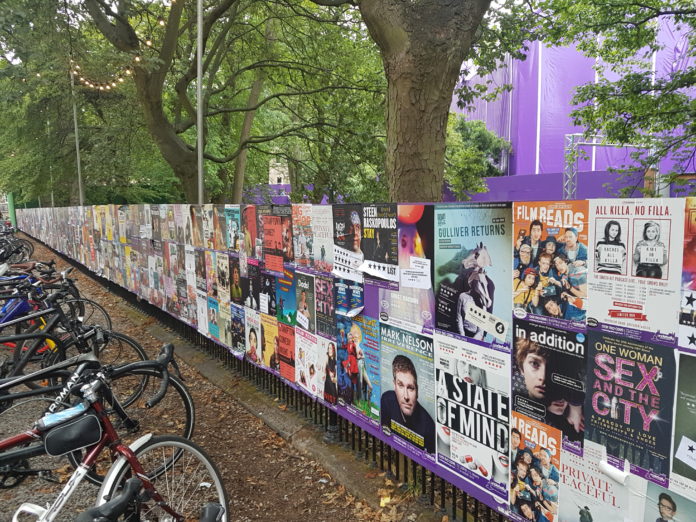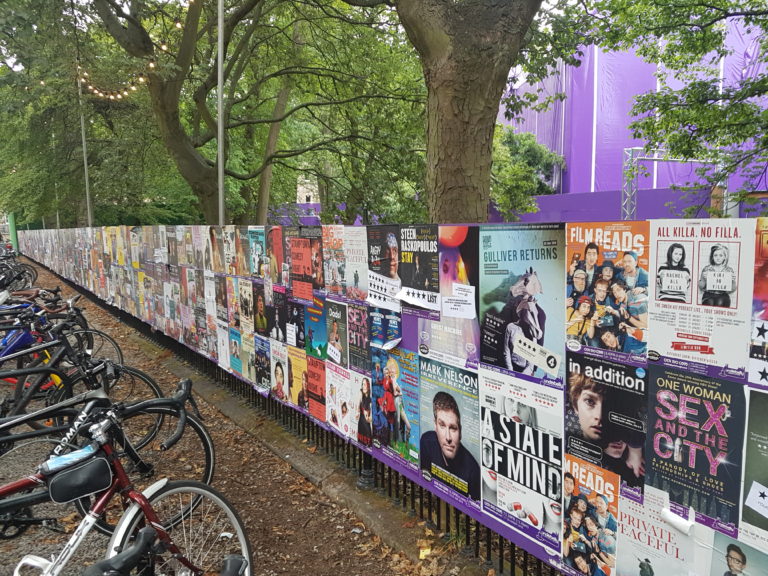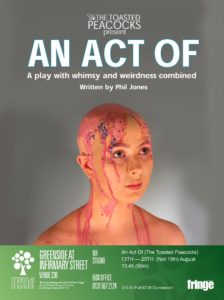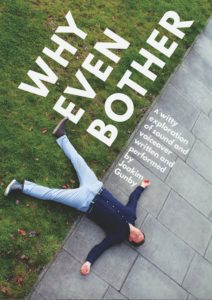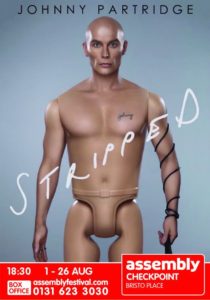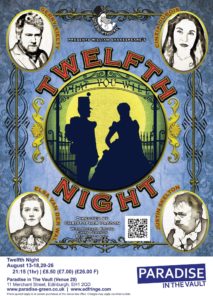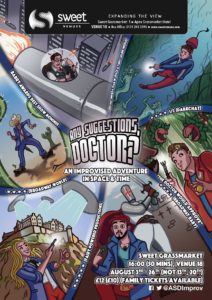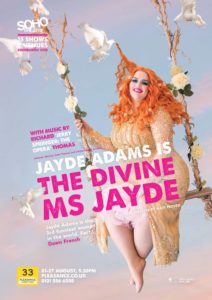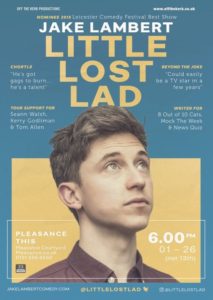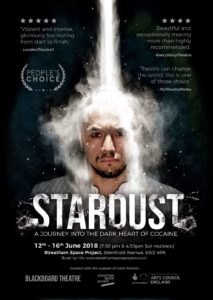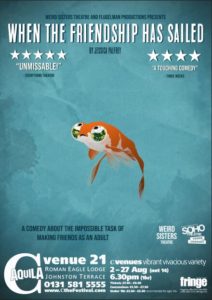 There were 10 final posters, of which the final four went to a public vote.
And the winner is….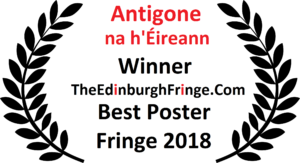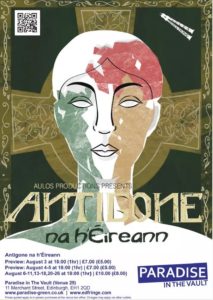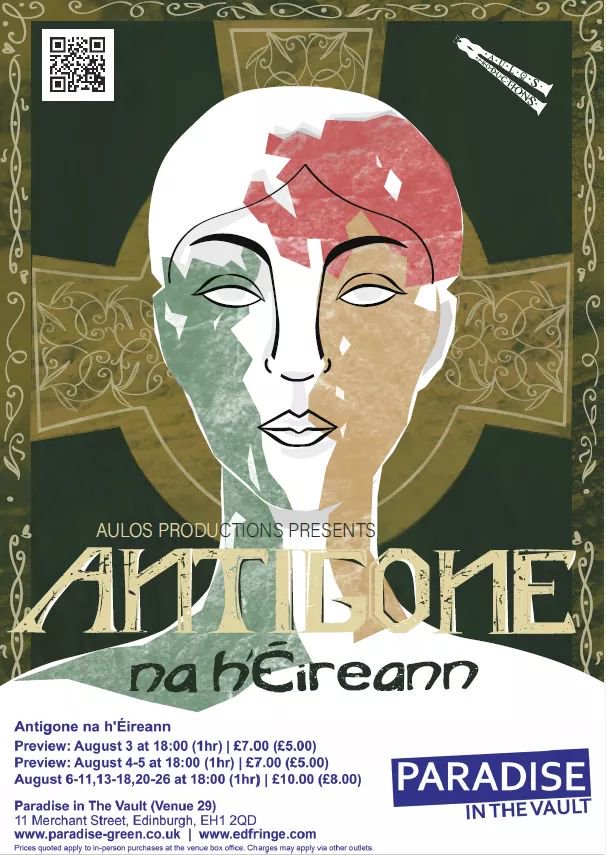 #1 Antigone na h'Éireann (65%)
The runaway winner of our poll was Antigone na h'Éireann's beautiful poster that took the celtic cross and green, white and red colours of the Irish tricolour and made a stunning poster that was both visually appealing and reflected the play's themes of family and faith and a woman's journey to bring her family the honour they have long sought. A well-deserved win for the Aulos production team!
"Driven by faith to resurrect the IRA, Annie battles to bring her family the honour they deserve. A new Northern Irish adaptation of the myth by multi award-winning writer James Beagon. In the not too distant future, a hard-border Brexit has severed Ireland in two once and for all. Annie and her siblings will not let this stand. An unshakeable shadow lingers over their journey as faith, family and factions collide: the shadow of their father and the memory of the Disappeared. Inspired by Sophocles and other sources."
#2 Stardust (28%)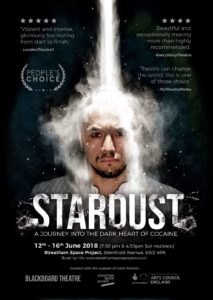 The poster for 'Stardust' took an early lead but sadly could not sustain it. The cinematic look of the poster captured the play's tense drama well, and the illuminated white dust falling on the lead's head was inspired. A worthy silver placing!
"Stardust shines an unflinching light on Colombia's heart of darkness. Mixing together new writing by Immersive Ensemble founder Daniel Dingsdale, physical theatre and hand-drawn animation, Colombian artist Miguel Hernando Torres Umba and Blackboard Theatre bring you an irreverent, entertaining and impassioned investigation into the human cost cocaine production and consumption has in Latin America and further afield."
#3 Stripped – John Partridge (6%)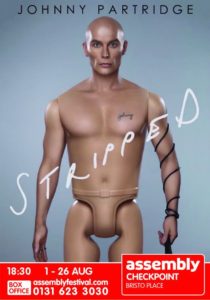 John's poster was striking and unusual. His face realistically etched onto the mannequin was both familiar and unnerving.
"Stripped is a new beginning. A reintroduction of myself. Life has a way of hardening you, at least mine has. This is my attempt at shedding those skins, saying goodbye to part of myself and embracing someone I knew a long time ago. Through film, music, poetry, song and dance, I share my story and in turn ask the audience to consider theirs. From boy to man, sexuality, sobriety, success, love and loss. My pictures, memories, moments. Featuring original music and choreography alongside the soundtrack of my life. Bowie, Bush, Buckley and more.."
#4 The Divine Ms Jayde – Jayde Adams (1%)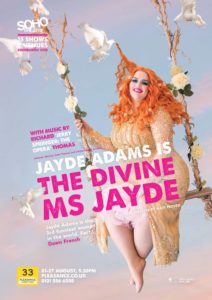 I am surprised this poster did not do better as it has a real stand-out quality and is  a poster for a comedian with legions of followers. It's divine imagery perfectly encapsulates the show. Better luck next year Jayde!
"Edinburgh Comedy Award Best Newcomer nominee 2016. Comedian Jayde Adams is going full diva with glorious gowns, acerbic charm and show-stopping music by Olivier Award winner Richard 'Jerry Springer: The Opera' Thomas. Directed by Matt Peover. "
The posters from fifth to tenth place were ranked by TheEdinburghFringe.Com's judging panel.
#5 Why Even Bother – Joakim Gunby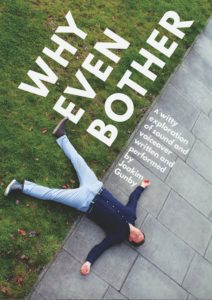 This poster was just one vote off making the final four and the public vote. Which is a real shame because I love the simplicity of the design. The poster really stood out on the Royal Mile and branded the show perfectly. 'Why even bother' with fancy graphics and artwork if simplicity looks this good!
"In this dark one-man comedy we get a glimpse into the world of Main Character and the everyday struggle of his normal life. Please hold and someone will be with you shortly. The ever-growing apathy of life can feel crushing. Even the best of us will end up asking 'why even bother?' when faced with Co-Worker and his collection of cat pictures, or when Flatmate greets you with 'we're out of food. I'll be in my room watching Amish MILF porn'. This witty exploration of sound and voice-over is created and performed by Joakim Gunby. "
#6 Twelfth Night – Some Kind of Theatre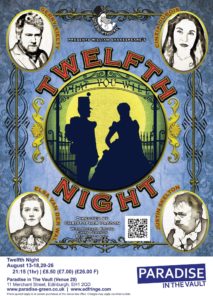 This stunning poster was used for Some Kind of Theatre's Twelfth Night. Unfortunately, and very surprisingly for a theatre company that had produced such terrific art work for its poster, it was not used on the Fringe website which had a bland silhouette. Still the poster perfectly captures the Victorian era and is a beauty to behold.
"Love, hysteria and deception reign in this Victorian reimagining of Shakespeare's classic. Cesario is in love with Orsino, who's in love with Olivia, who's in love with Cesario, who's really Viola in disguise. There's cross-dressing, crossed lines and cross servants. The situation's complicated, and that's before Viola's missing twin turns up! Societal masks, hidden identity, unrequited love and the perils of Victorian psychiatry form an intricate web of heartbreak and despair. Can love prevail against the mores of Victorian society? Make of it what you will.'
#7 When the Friendship has Sailed – Weird Sister Theatre Company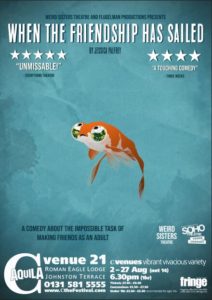 There was something very endearing about this poster. A little goldfish with lovely sad eyes that enticed everyone passing by into the blue poster tank where the lonely little fish resided. And kudos to the marketing team because this poster was everywhere around Edinburgh!
"A comedy about the impossible task of making friends. It follows the story of one woman who, after becoming fed-up spending night after night talking to her goldfish Christina (Aguilera, because she's a fighter) she makes a pact with herself that she put herself out there and make new friends. What follows is a hilarious, cringeworthy and ultimately heartbreaking story about the courage it takes to genuinely look for true friends, and the pain of living alone. This show features songs, dancing, puppetry and bubbles."
#8 Any Suggestions Doctor? – Any Suggestions Improv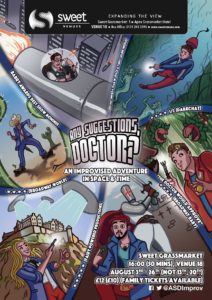 This entry is not an obvious choice for the competition but the poster is a superb example of comic graphic art and really mirrors the fun and adventure of the show.
"The hilarious improvised Doctor Who parody returns! Featuring a live radiophonic workshop and a crew of hysterical performers, join us for an entirely new adventure every day based entirely on your suggestions. Nominated for Best Show in The Barry Awards 2017. "
#9 An Act of – The Toasted Peacocks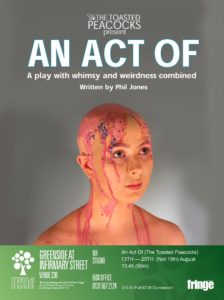 This poster intrigued many. An Act of…? Pink goo on head? And like 'Why Even Bother?' and 'When the Friendship has Sailed', the Toasted Peacocks must have put a lot of leg work in running up and down the streets of Edinburgh over the three weeks, as this was again a very visible poster.
"You'd usually begin with the start, but here the end explodes first. At the end there is always a party: some good, some not so much. This being the latter. There will be confetti. The Toasted Peacocks aim to give you 101 questions but leave you with zero answers. Bringing weirdness and whimsy, they have a passion for the amusing, the comedic and the truly bizarre."
#10 Little Lost Lad – Jake Lambert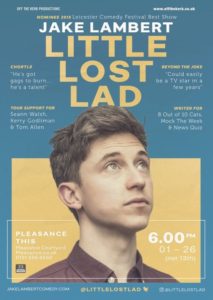 The unusual colour scheme really worked on this poster and again the visual effect of Jake looking wide-eyed and upwards really linked up with show's central theme. Every time we saw the poster, we just wanted to reach out and ask 'you alright love?' and take him to McDonalds for a milkshake!
"Jake lives alone, cuts his own hair, has an ability to remember the exact date he first tasted each specific food for the first time and has a one-eyed cat. If this sounds like it needs some explaining and, let's face it, it probably does, then this is the show for you… Hotly anticipated debut from Leicester Comedy Festival Best Show nominee 2018. Writer for 8 Out of 10 Cats, Mock the Week and The News Quiz. Official tour support for Seann Walsh, Kerry Godliman and Tom Allen. "
Here are a couple of the winning posters in situ. Hopefully you will agree they really stood out and delivered on raising interest in the shows they were advertising.
Well done again to Antigone and to all our top 10 finalists; to the posters designers and the marketing teams who spent hours putting them all up across town.
We certainly enjoyed seeing al, the posters around Edinburgh this Fringe, and look forward to  more inspirational designs for Fringe 2019!