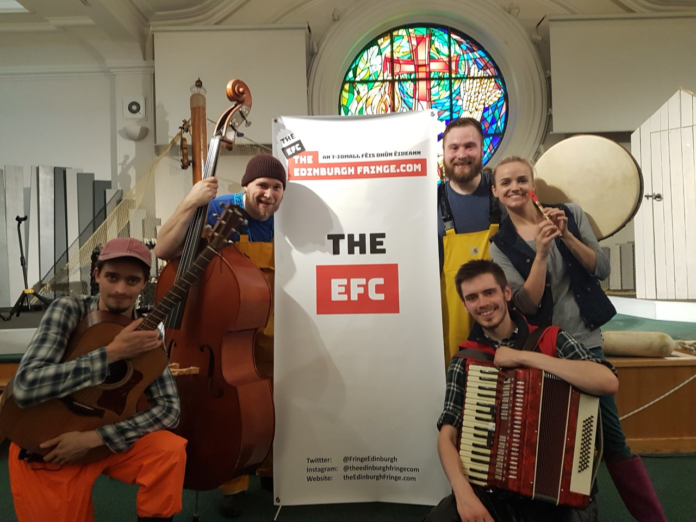 Overall Rating

Another review I nearly didn't make! Crowds on the Royal Mile in August – who would have thought it?
The guys from Fisherman's Tail were our winners picked at random in our Twitter competition to 'win' a first week review!
And all credit to them that they were pounding the 'virtual' Royal Mile of social media prior to Edinburgh. Since they arrived here too, these guys have become something of a midday favourite, performing sea shanties in their #windowband daily above Carrubbers. Daily except Sundays of course, as this is a solidly Christian group. Which is somewhat unusual at Fringe – the 'uniqueness' of Edinburgh means reviewing a show of four men dressed in rubber and a lady holding a ring would not normally transpire to be four Christian fishermen and their female narrator, but I am very glad in this case it did!
They were an exceptionally friendly group to meet, and we wish them well from the remainder of their Fringe run! And with an overall score of 3.8, they earn themselves a 4-star review from The EFC!
Review Date : Wednesday August 7th 2019. For Tickets – click here.
Content

Fisherman's Tail describes itself as "a hearty, all age, actor-musician musical about four humble fishermen whose everyday lives are blown out of the water when they are caught up in the whirlwind of Jesus's life and miracles." Which translated to a retelling of the Jesus story through sea shanties and songs with Simon Peter, Andrew, James and John looking and sounding like Cornish fishermen. It has been a while since I read my Bioball na Cloinne (Children's Bible stories) but the basic elements all seemed there! There was a good pace to the narrative and the show concluded well. Not as many fish puns as I was expecting but the show had some good original songs and the nautical theme enhanced the story they had to tell, and didn't distract from the central message of the Jesus story.
At points the content felt like it was holding back from being a solid piece of Christian theatre and needed slightly more 'hallelujah', at others it felt like the narrator was preaching to a school assembly. If the show decides to return to Fringe next year, it probably needs to consider more who its core audience is and script the show fully to that audience; the general Fringe going public (which in fairness I felt it was aimed at in general at this performance) or the church going/ family crowd.
Overall though, a very engaging retelling of the story and some very solid musical scoring and performances.
Audience Engagement

The audience on the day I reviewed was smaller than I had been told was the case for previous shows (well it was raining and Black Wednesday!), therefore the show struggled at times to get much enthusiasm from the audience. There was lots of laughter from younger audience members, however, for the more comedic elements. The seating arrangement meant that the audience was sat in small groups quite far from the stage in some cases, so even more difficult to create a 'buzz'. The audience left content but to the last point, I would probably have expected more clapping along and audience participation from this type of show.
Staging

The stage was bedecked with a mock boat and fishing gear and was as well staged as could be in the confines of a church hall. The ensemble made good use of the space on stage, but could have perhaps engaged more with the audience.
Originality

The show successfully achieved what it set out to do, and was well-executed. The fisherman theme was well inter-woven into the tale, and the hearty songs added to the sense of joy in the Jesus story that they wished to convey. The theming of the show seemed quite innovative to myself as a non-worshipper, as I am sure it would to the majority of Fringe goers.
Artistic Performance

Solid performances from all the cast members; the shanty set-pieces were all sung well and in surprising harmony. Everyone on stage had buckets of enthusiasm which helped keep the show moving through some of the slower sections. For the family show they set-out to be, it was very well executed.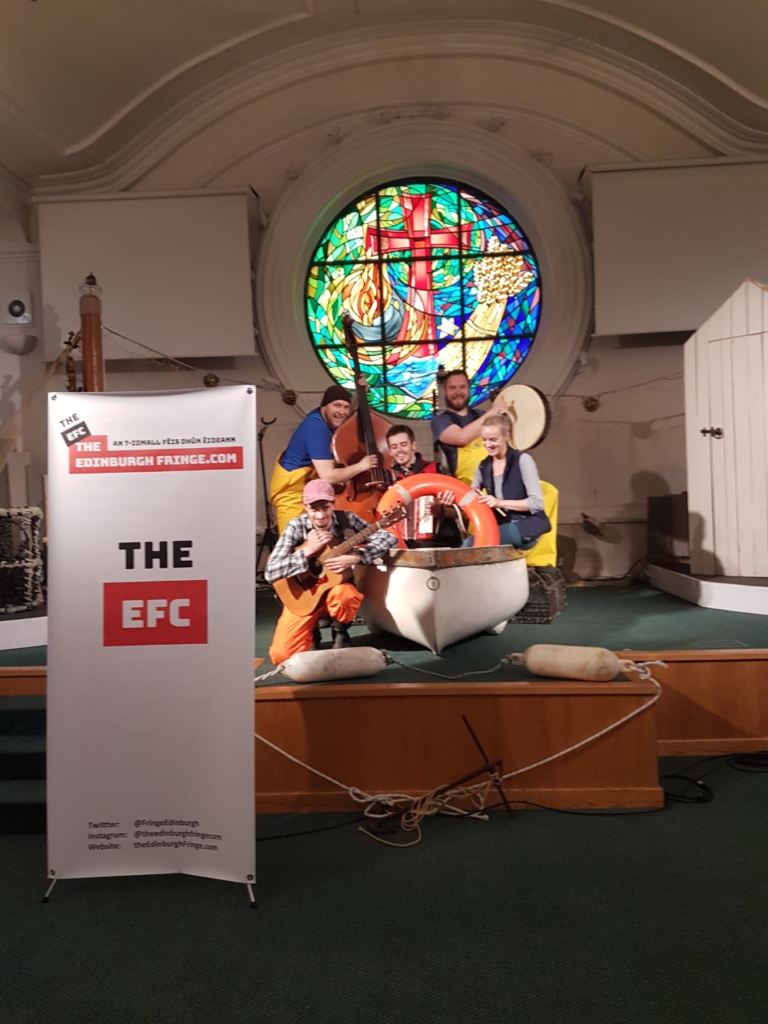 Note the EFC pay full ticket price for every show they review. The criteria by which we review and rate shows can be found here.