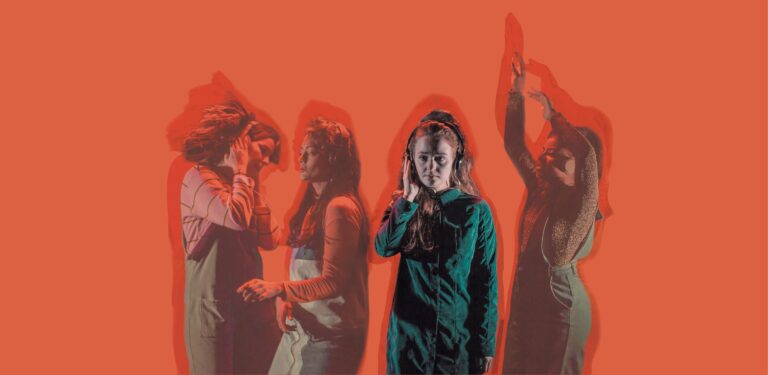 The Bible John story maybe a familiar one to people from Scotland, but how much is now just myth? And why does the case remain unsolved? Poor Michelle brings this fascinating real-life murder case to the Fringe stage; an exploration of our obsession with true crime and the themes of gender and victimhood against the backdrop of 60s Glasgow. Writer and actor Caitlin tells us more about the show.
Can you introduce yourself and your show?
I'm Caitlin, the writer and one of the performers of Bible John. It's the story of four women, bound by a mutual fascination with true crime, and their attempt to solve a series of murders committed by an Old Testament-quoting serial killer, nicknamed Bible John, at a dancehall in Glasgow in the 60s. More widely, it's about gender, violence, and victimhood.
What is the top reason people should see the show?
It's riotous, uplifting, and we just might solve the case.
What does a 'successful Fringe run' mean to you?
It's always really rewarding when the show resonates with audience members and their personal experiences, so if that happens, we'll all be very happy.
What 3 top tips have you got for Edinburgh Fringe first timers?
1/ Pace yourself – the Fringe is long and sometimes pretty relentless, so don't feel like you need to see eight shows a day.
2/ Try not to live off food from vans, but the dumplings in George Square are excellent and very reasonably priced.
3/ If you loved a show and see the artists flyering the next day, tell them; it'll give them a boost and Edinburgh's all about making connections with people whose work you like, so you never know where it'll lead!
How did Poor Michelle come together as a company?
We formed the company after we graduated from university. We all wanted to be making theatre but found it almost impossible to get a foot in the door, so decided to take things into our own hands.
What key message do you hope comes across to your audiences?
I hope it'll make people think about their relationship with true crime, especially if they share the morbid fascination discussed in the play. I hope people feel ignited by the show and also empowered by it.
Your show explores the public fascination with true crime. Why do you think it holds such appeal?
I think there are a few reasons. Partly it's that people have always loved playing armchair detective, and with the internet it's easier to do that than it's ever been. But also, especially for anyone who feels at risk in public or when they're walking home alone late at night, there's an element of self-protection: if you're aware of the worst things that could happen to you, because you've learned about them in a podcast or documentary, you know how to prevent them. It's like a very strange, high-concept form of disaster planning.
The Bible John case is still unsolved. Like your characters, did you immerse yourself too in the history, and do have your own theories as to the identity of Bible John?
I've done a lot of research, and interestingly, as I'm from Edinburgh and have a lot of family from Glasgow, I've found there are a lot of personal links to the case, including people who worked in the police force at the time of the murders, or used to go to the Barrowlands and other dancehalls. I know a worrying amount about the case now, but I'm not sure I could speculate on a suspect. I'm not convinced it's any of the major ones covered in the media, and with no available DNA evidence, I doubt he'll ever be found, which must be so disappointing for the families of the victims.
How are you promoting your show in the run up to the Fringe?
We'll be tweeting constantly from our account – @poormichelle_. We'll also be doing some London previews, which we're going to confirm shortly, and talking about the show to anyone who'll listen! We'd love to get on a true crime podcast to chat about the case too, as listening to them is what first inspired the show!
Lastly do you want to tell us where and when we can see the show?
Bible John is at Pleasance Courtyard (Above) from 31st July – 26th August (not the 13th) at 3:50pm.
Bible John will be performed daily at the Pleasance Courtyard (Pleasance Above/ Venue 33) at 15:50 from July 31st to August 12th and from August 14th-26th. Tickets available from the Fringe Box Office.