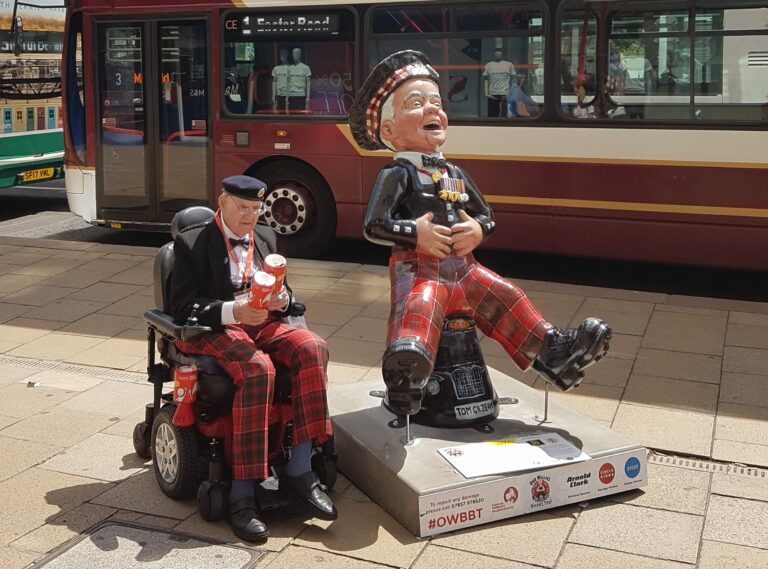 We stopped for a chat yesterday with legendary Edinburgh charity collector Tom Gilzean and took a photo of him posing next to an Oor Wullie statue…of himself!
The Oor Wullie Bucket Trail is Scotland's first ever national public art trail which is aiming to raise awareness and vital funds for the nation's children's hospital charities.
Each of the five host cities – Glasgow, Edinburgh, Dundee, Aberdeen and Inverness – have been marked with sculptures of the historic cartoon figure.
But Edinburgh's Princes Street features a special one of Tom – who collects cash for charity every day at the age of 99.
Tom served in the Royal Engineers Regiment during World War Two and was deployed to Belgium, North Africa and Germany, among other places.
His war honours include the 1939-45 Star, the Africa Star, the Burma Star, the France and Germany Star, the Defence Medal, and the Victory Medal.
He also has a 30th Armoured Corps medal earned during Operation Market Garden, the 1944 conflict made famous in the movie A Bridge Too Far.
Tom is out collecting in his signature tartan trews seven days a week, come rain or shine. And just last month Tom Gilzean received an MBE for his services to charity after raising more than £1 million.
We stopped by to make a donation Tom yesterday. Find out more about Tom on his Facebook page @Tom Gilzean, or better yet, if you are visiting the Fringe pop down Princes Street and say 'hello' to the Edinburgh hero yourself!