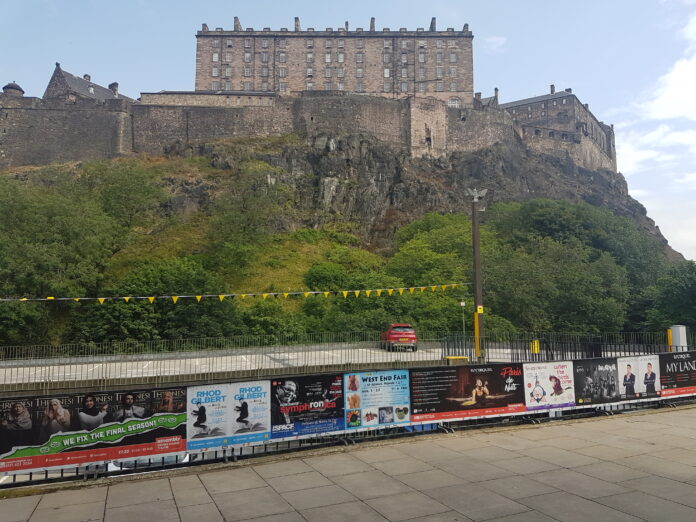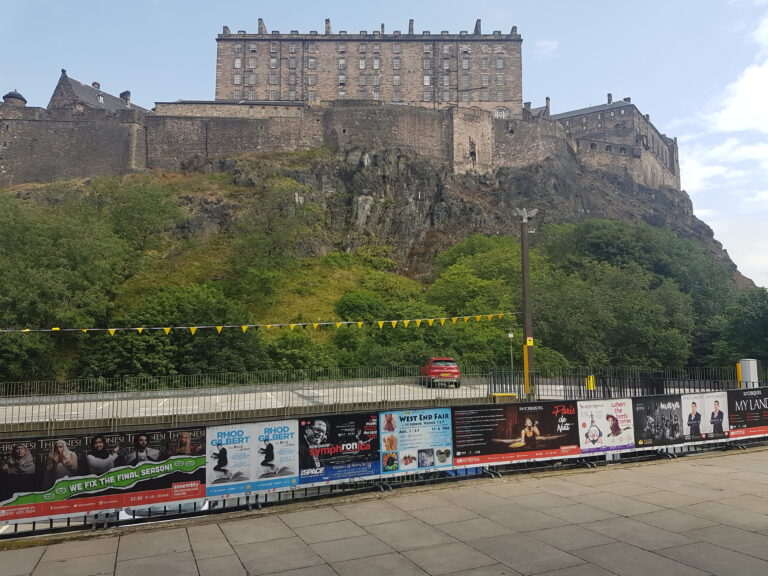 We can now reveal our final 10 posters! The following were selected from five public nominations, and five that we had seen from visiting the poster sites around Edinburgh.
You have until midnight Sunday August 11th to pick your winner. You can vote once using the voting form at the bottom of the page. Thank you for taking part!
In alphabetical order
#1 Abandoman AKA Rob Broderick – Road to Coachella
We loved this movie-esque poster as being visibly striking and conveying the glamour of Coachella to Edinburgh audiences.
"Fancy a full music festival in 60 minutes? Abandoman's got your back! Rob Broderick brings his innate ability to craft songs on the spot to the world of Coachella. Combining hip hop, pop, EDM and more, Rob will transport you to the world's greatest music festival and leave you high on life – without leaving George Square. 'Raucous, expansive and relentlessly hilarious' **** (Times). 'A totally unique and mind-blowing musical comedy experience' ***** (BroadwayBaby.com). 'An unstoppable force of nature… improv skills bordering on the magical' **** (List)." For tickets – click here.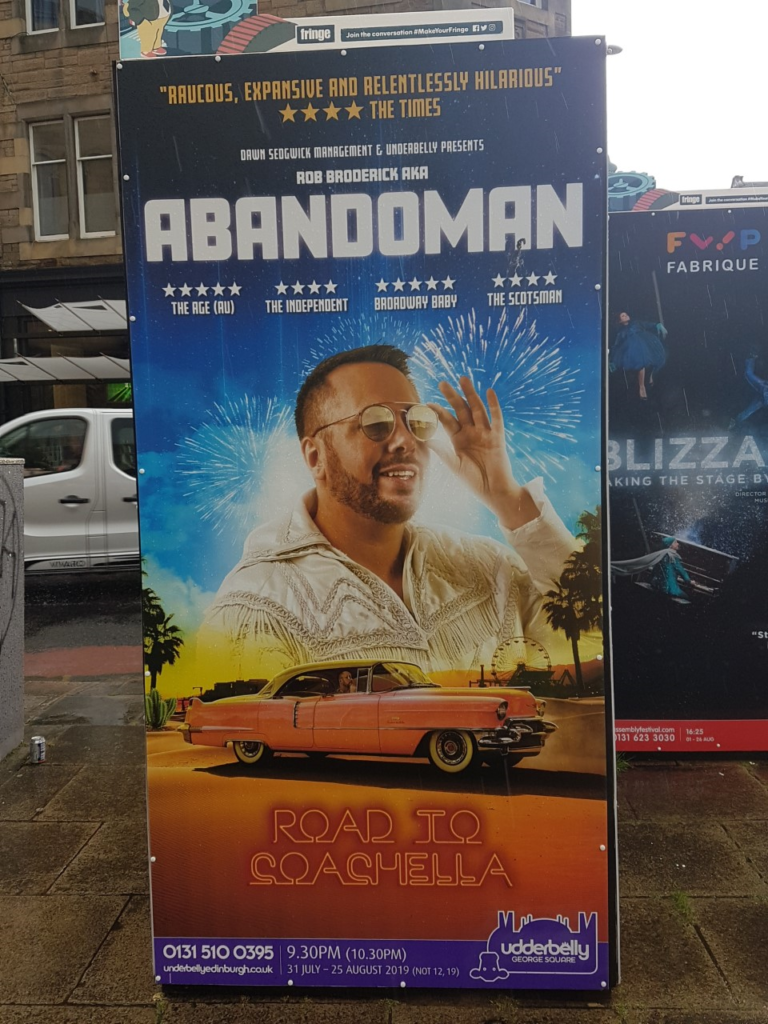 #2 Atomic Saloon Show
The intense staring eyes of this poster and atomic 80s neon styling won the panel over to selecting Atomic Saloon for our final 10.
"The wildest watering hole in town. Madam Boozy Skunkton has been collecting the prettiest, sexiest, dumbest, drunkest troupe of entertainers and acrobats on earth, and is determined to create the greatest saloon show the world has ever known. Moulin Rouge meets Blazing Saddles, and America's Got Talent meets Westworld. From the creators of the hit Las Vegas show Absinthe. Featuring some of the best names in variety and physical comedy, this world premiere is a must-see before it heads to its permanent home on the Las Vegas Strip. Directed by Cal McCrystal (One Man, Two Guvnors)." For tickets – click here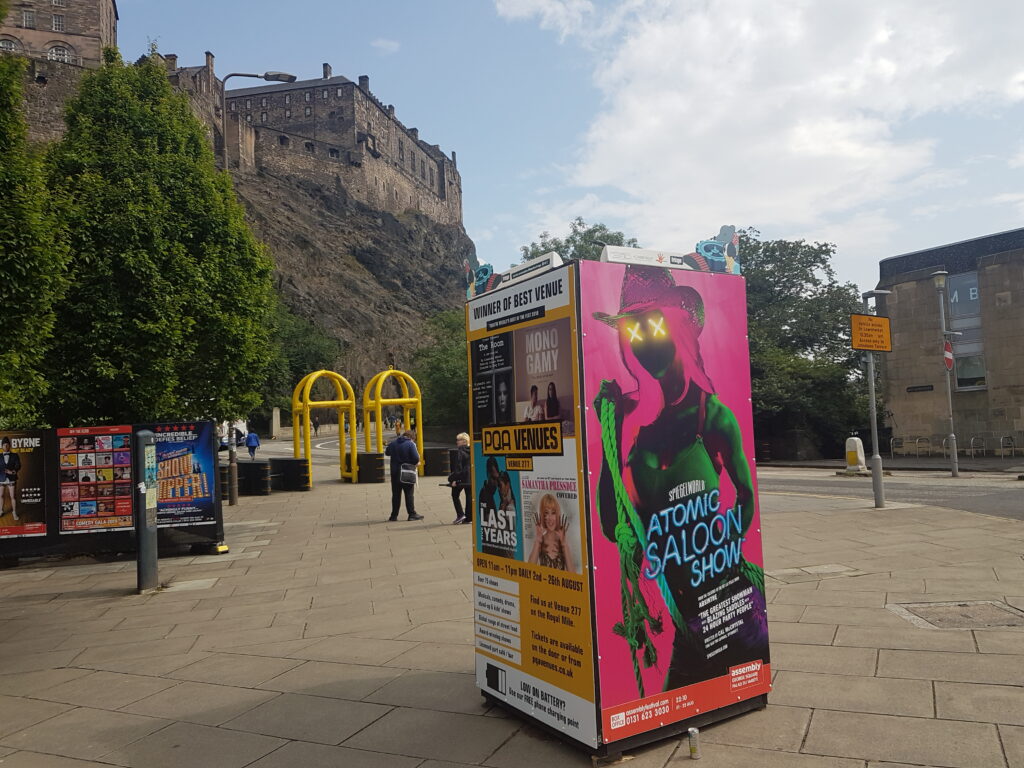 #3 Birth
A poignant poster that conveys a simple message.
"Following a sell-out run at London International Mime Festival 2019, Theatre Re presents a powerful, poignant and uplifting visual theatre piece with live music exploring the bond between three generations of women, their shared loss and the strength they discover in each other. Emily is eight months pregnant when she reads her grandmother's journal. As she delves into her family history, her sense of reality shifts, unveiling a legacy of unspoken tragedies and unconditional love. 'Sensitive, adept, absorbing' (Donald Hutera). Previous productions by Theatre Re include The Nature of Forgetting and Blind Man's Song." For tickets – click here.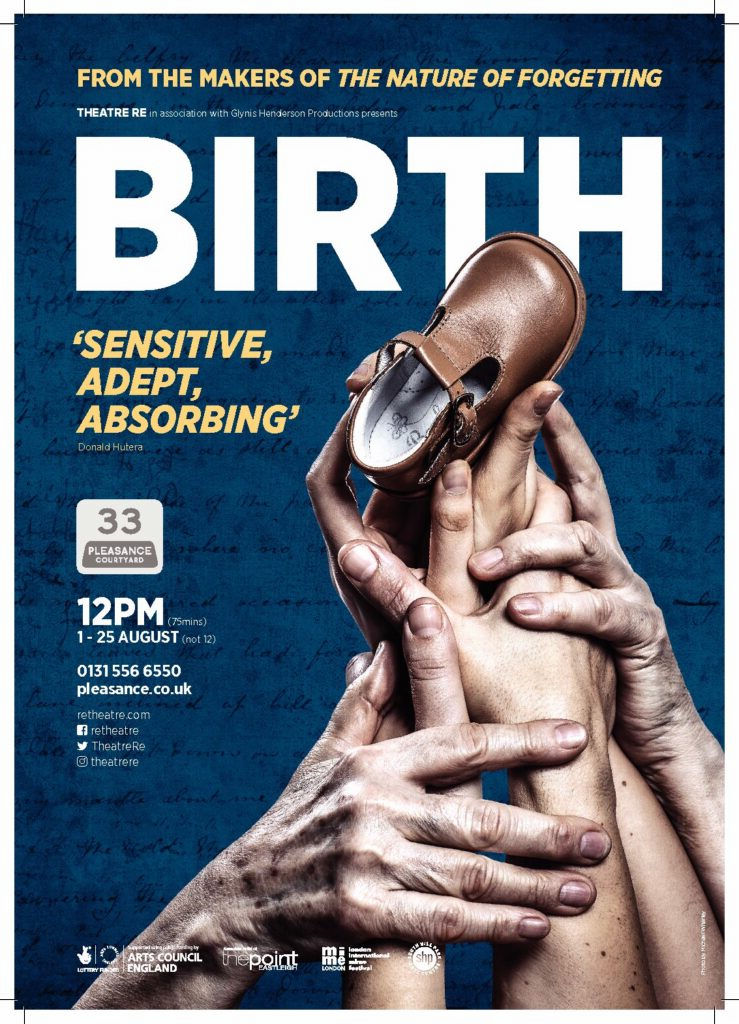 #4 Cicada 3301
Not only is this innovative poster striking, it also conveys a hidden message (we haven't worked it out either!)
"Cicada 3301 is a play devised around one of the most mysterious, still unsolved Internet puzzles. When Cicada 3301 first appeared in January 2012 with a picture posted on Reddit, it immediately caught the fancy of many. This image started what was to become one of the Internet's most enduring puzzles; a scavenger hunt that has led competitors across the web, down old manuscripts to several physical locations around the globe and into uncharted areas of the darknet. Cicada 3301 is a play about the human desire for purpose, community and the search for order in chaos." For tickets – click here.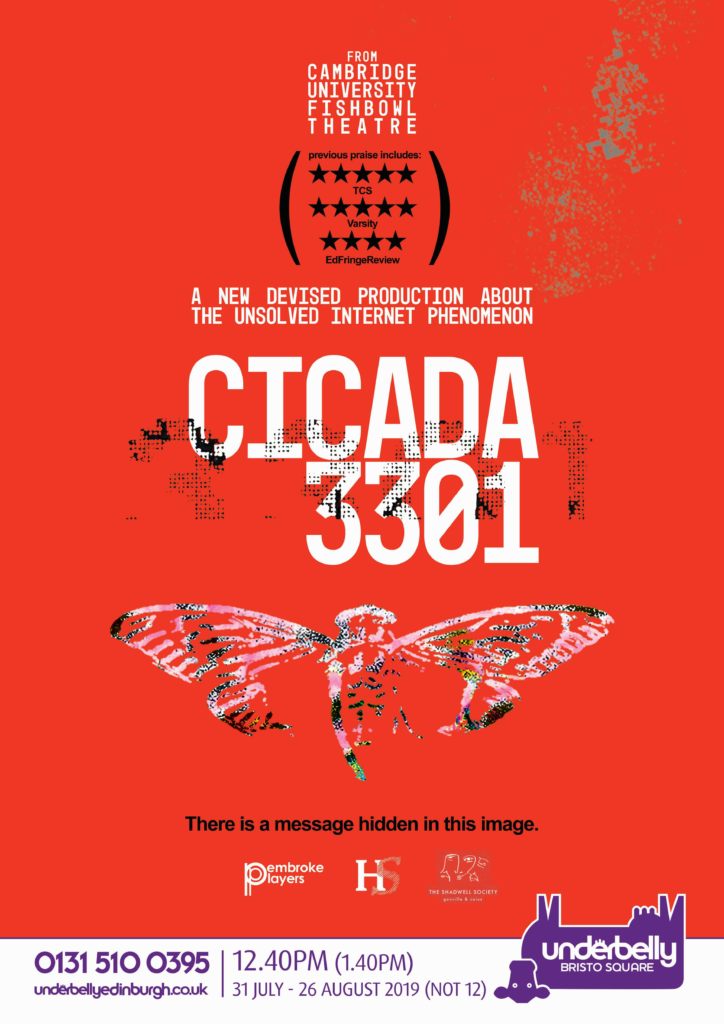 #5 A Complicated Man
This poster struck our panel for its Dante-like circles and multi-layered design.
"How many years does it take to unspool a man? An odd king sails the waves of the wine dark sea in a bathtub. Featuring water and wigs, big mammal reimagines The Odyssey as a queer epic of becoming. This new work by Emma Henry and Evan Silver refigures the Homeric text to explore the fluidity of gender and the multiplicity of identity. Developed at Bussey Building's CLF Art Cafe in Peckham, London." For tickets – click here.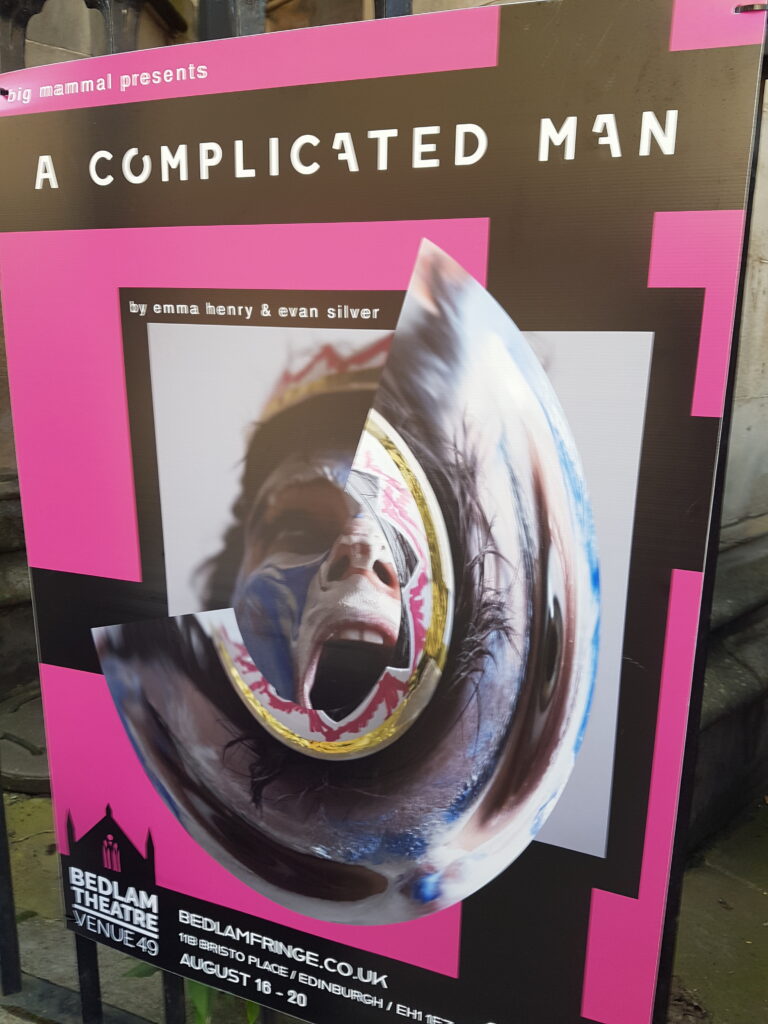 #6 Dave Bibby: Crazy Cat Lad-y
How many of you thought – 'is that David Walliams?' It's actually Dave Bibby and his poster used a winning combo of bright colours and striking design to make our final 10. Credit to Karla Gowlett and Katie Allen who acted as photographer and designer of the poster.
"Award-winning idiot, Dave Bibby, presents a carousel of comedy: characters, stand-up, sketches, storytelling and, against everyone's advice, rap. Plus cat stories. My cats made me write that. 'Stormed onto stage, captivating the audience with his upbeat musical offerings… A true performer' (Comedy.com). 'Like a Bullingdon Club member crossed with Beetlejuice' (TheReviewsHub.com). Winner: Musical Comedy Awards 2018, Audience Award. Best Male Act at Solo Festival. Finalist: Leicester Square Theatre Sketch Off 2019. As seen on Channel 4, Netflix, BBC Comedy, Comedy Central and yer mum. 'Self-deprecating brilliance' **** (MumbleComedy.net). 'Simply hilarious' **** (Entertainment-Focus.com). " For tickets – click here.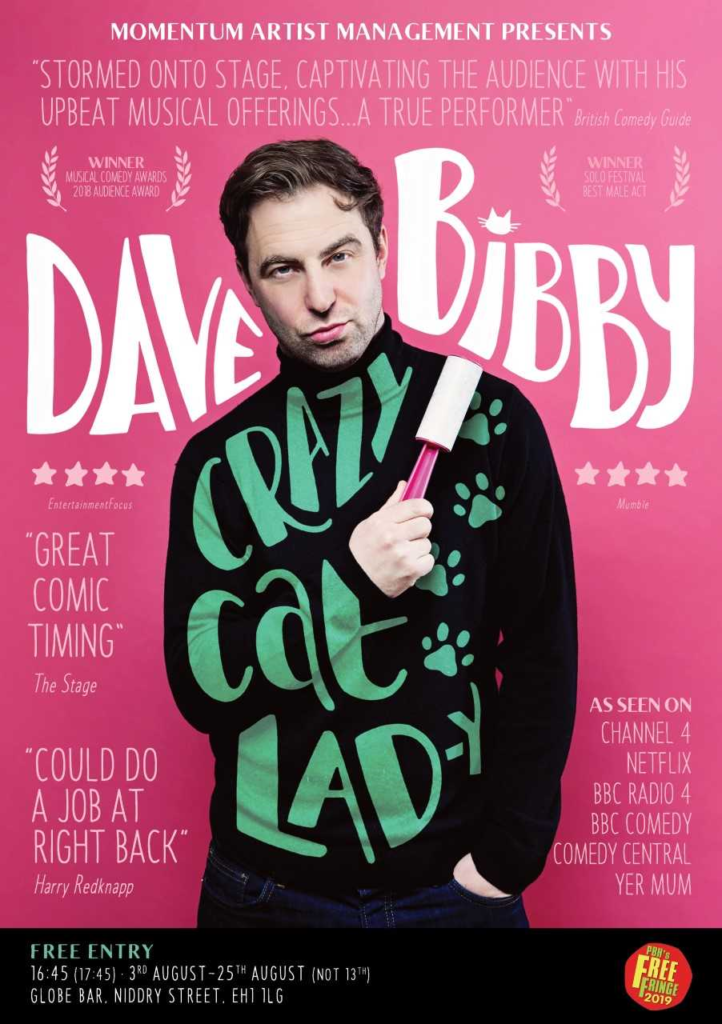 #7 Four Woke Baes
This classically designed poster wouldn't look a-miss on a book cover. The visuals and the colouring won our panel over.
"Multi award-winning US playwright Jonathan Caren's razor-sharp dark comedy follows four friends on a river-rafting stag party that's turned upside down when a mysterious woman kayaks ashore. Groom-to-be, Dez, comes to question the very nature of love and monogamy over the course of a long night's drinking, fire-building and s'more-making. Rifles are drawn, stripteases danced and secrets unearthed as the quartet of friends comes together and falls apart. Cynical and raw, hilarious and squirm-inducing, the play asks just how liberal "woke" boys really are when they're alone together, out in nature, beers in hand."For tickets – click here.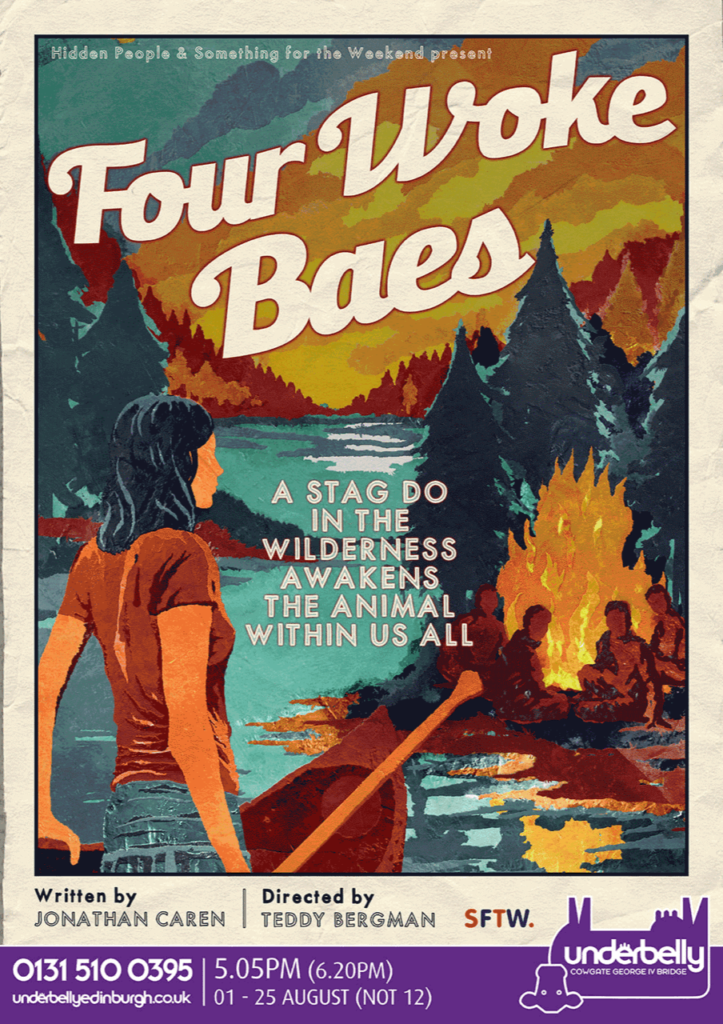 #8 Fulfilment
A very simple poster compared to others we saw around town, yet one which helps it stand out and convey its message.
"Robox is your personal fulfilment device. The one-click wonder, the ultimate convenience. You dream it, he delivers it. Instant fulfilment. But fulfilment isn't for everyone. Award-winning theatre company SharkLegs uncover the price people really pay for next-day delivery. Disarmingly funny and playful, the show is created live every night from your desires. Join us and let Robox discover what you need, what you want and what you dream of. Then let Robox provide the solution. A solution… Definitely a bit of a solution… Or a solution that other people who bought this solution also bought." For tickets – click here.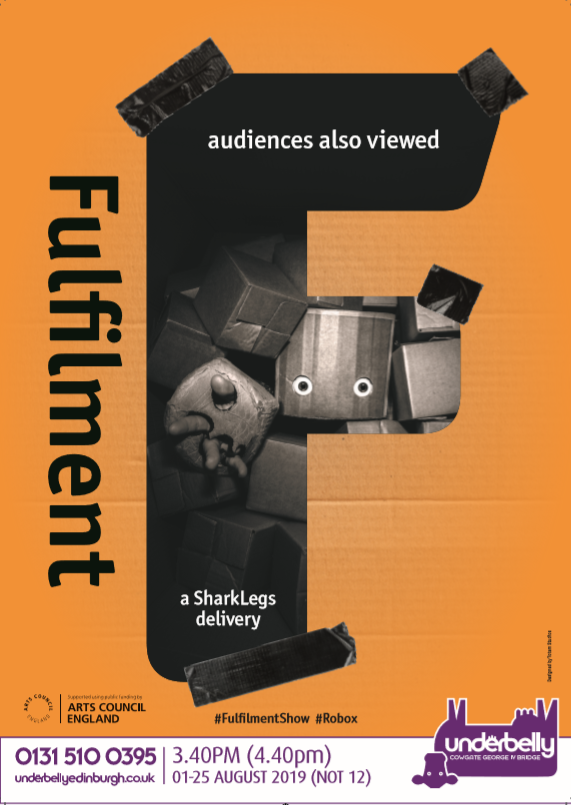 #9 Scream Phone
This poster captures all the fun of Fringe yet also taps into the teen movie genre of film posters to help convey the show's theme.
"After the success of 2 Become 1, Swipe Right present their deliciously dark musical Scream Phone – directed by Pappy's Tom Parry! The girls are having a sleepover and you're like, totally invited! Pillow fights in their underwear, singing into hairbrushes, and gossiping about their crushes, what could possibly go wrong? As long as they don't answer the oversized pink phone… dun dun duuun! Based on the retro game Dream Phone, they'll take you on a killer journey back to the 80s with an infectious original soundtrack. Scream meets Clueless in this hilarious spoof horror musical!" For tickets – click here.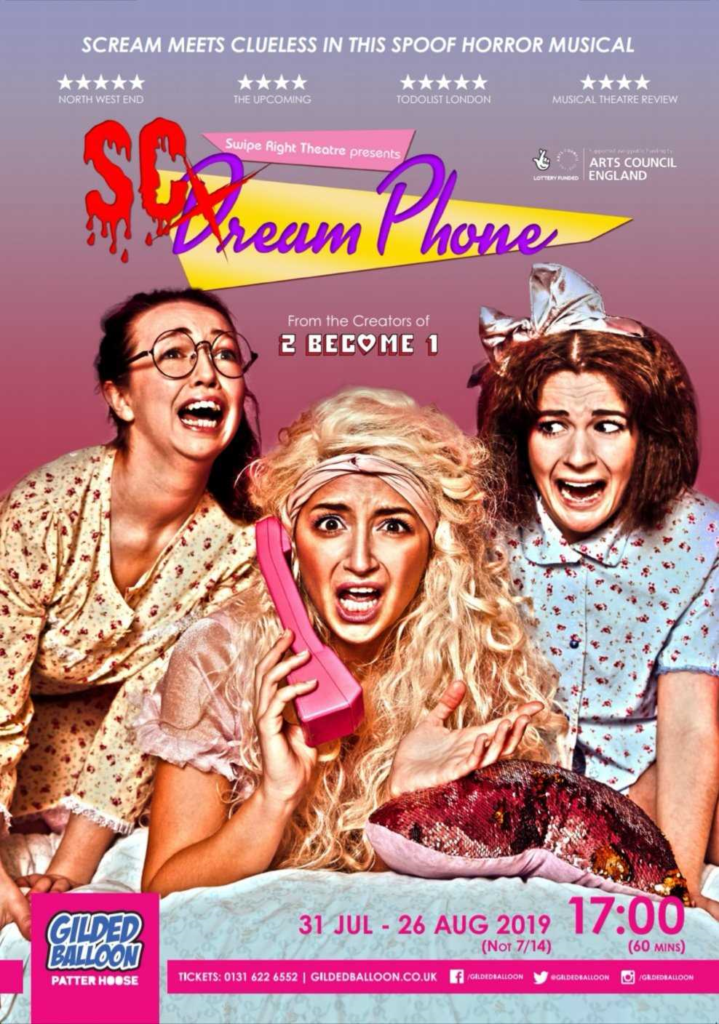 #10 The Wrong Ffion Jones
A very detailed poster with great visuals, it immediately caught our attention.
"Once famed for coal, copper and steel production, Wales's industry has now ground to a halt. All that's left to sell is Welsh pride, and even that is quickly drying up at the hands of business tycoons Bevan, Bevan, Bevan and co. Will Ffion sell her soul to be the 'face of Walesland', or will she summon the courage to revolt for the strange trouser-less child that appears in her dreams? A comedy about identity, capitalism and an accidental rebel." For tickets – click here.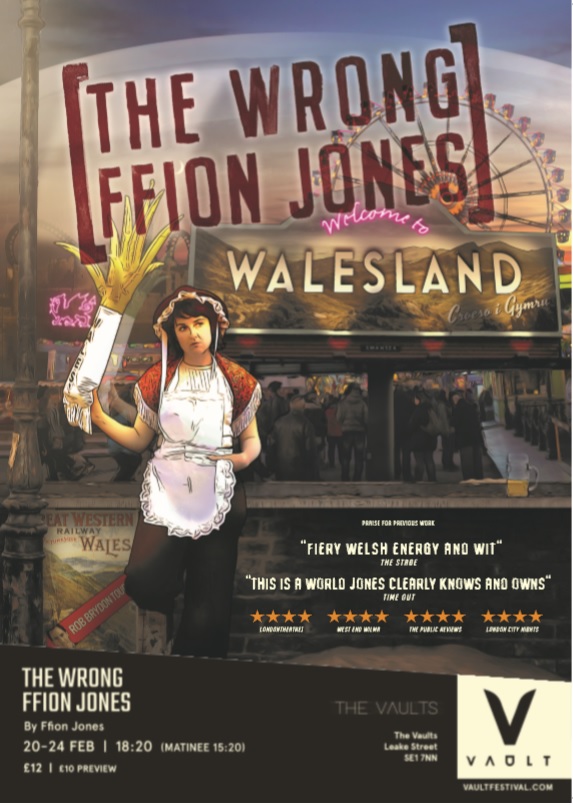 ---
TO VOTE – PLEASE USE THE FORM BELOW
All votes received before midnight Sunday 11th August 2019 will be counted. Complete the fields below and select one entry, then press submit. Please note that the email confirming submission can take up to 24 hours to be received, and in some cases will be blocked by your mail server or sent to your spam folder.