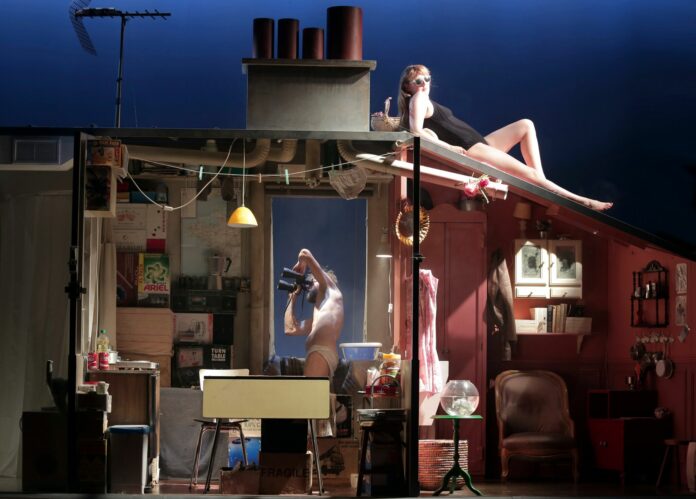 Overall Rating

'Fishbowl' seriously undersells itself. Describing itself as a French farce with 'Mr Bean antics' brings to mind a small theatre with slaptick gags that draw reserved laughter. Au contraire! On entering the Pleasance Grand, you are met with a huge, intricate set and row after row of hundreds of audience members eager for the performance to start. Small-scale niche theatre, this is not.
Winner of the prestigious French theatre award, The Moliére, for Best Comedy Play, this production has good pedigree. Actors Agathe L'Huillier, Olivier Martin Salvan and Pierre Guillois play an isolated tinkering hoarder, a karaoke singing clean freak, and a goldfish-owning hairdresser, all living in adjacent attic bedsits on the top floor of a Parisian house.
Without a single word, the three neighbours tell their stories, all interspersed by mouth-dropping stage effects.
This production is more than just slapstick and pyrotechnics however. It presents three very distinct individuals, on stage in the fishbowl of their own living environment, and provides a touching portrait of their lives. It is a reminder, that in the isolation of cities, neighbours can live in very close proximity, but that the stories of those living nearest can be the most distant.
Set to be one of the main success stories of Fringe 2019, and no wonder! Fishbowl is the very definition of a five star production.
Review Date – Saturday 10th August 2019 Tickets – click here
Content

Without giving away any of the content, the narrative can be generally described as a series of acts which each tell their own unique story, that culminate in a final understanding and reconciliation between the three protagonists.
Essentially a narrative of the staging, and how the characters interact with the complex set and react to it, and in doing so shed light on their own unique stories.
If there is a minor criticism here it is that the final part of the show could perhaps have been condensed by 5-10 minutes to give the show a more conclusive ending. But this is a small observation and in no way detracts from the wonderous creativity that has gone into crafting such an an amazingly intricate narrative.
Audience Engagement

The crowds were there, the expectation was there, and Fishbowl delivered! As someone who lives and works in Edinburgh, you do have an inkling as to which shows the good people of Edinburgh are talking about in the pubs, offices and homes, and 'Fishbowl' has definitely been one of those 'Have you heard about that show?' productions this year.Hopefully that audience engagement and buzz will continue long after Edinburgh and see 'Fishbowl' carried to even bigger stages.
Staging

It would be slightly disingenuous to the three actors on stage to state that the set was the star of the show, but in many ways it was. Laura Léonard, the set designer, had built the initial concept set from which the ideas for the show were developed over weeks and months of improvisation. I will not spoil any of the many delights of the set design here, just to say that it would be difficult to imagine a set surpassing 'Fishbowl' in design excellence at Fringe 2019.
Originality

The innovation and creativity of the production team in creating 'Fishbowl' is simply breathtaking. The ingenuity of telling these three characters' stories through the set and their interactions with it was a wonder to behold.
Artistic Performance

The artistry of all involved was of the highest standard. The skills of the three actors on stage to bring the set to life through their comedic timing and exact movement required of physical comedy was award-worthy. Well done to all involved!
Note the EFC pay full ticket price for every show they review. The criteria by which we review and rate shows can be found here.