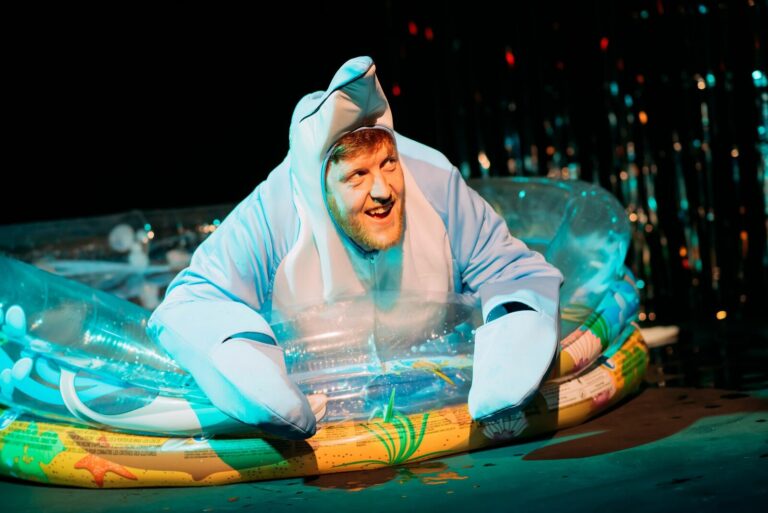 " If we could talk to the animals, just imagine it
Chatting to a chimp in chimpanzee
Imagine talking to a tiger, chatting to a cheetah
What a neat achievement that would be." So sang Dr Doolittle! Ever wondered how animals interact and relate to each other and with humans? Superfan have and their play 'Like Animals' is inspired by the true stories of research scientists working to communicate with animals. 'Like Animals' blends surreal comedy with moments of tenderness and vulnerability to explore the impossibility of ever truly knowing someone else. Over to Superfan to tell us more about their play!
Can you introduce yourselves and your show?
We are Pete (Lannon) and Kim (Donohoe). We're part of SUPERFAN – a new Scottish performance company – and the creators and performers of Like Animals.
What is the top reason people should see the show?
It's weird and funny, and it'll make you think about how you express love, and you'll learn some strange things about dolphins.
What does a 'successful Fringe run' mean to you?
Lots of people seeing and enjoying the show and thinking about it afterwards. That, and making it through the run without catching the dreaded 'Fringe flu'.
What 3 top tips have you got for Edinburgh Fringe first timers?
1. You'll always miss a show that everyone's raving about, so try not to spend the whole month with FOMO!
2. Give yourself LOADS of time to get between venues, even if google maps tells you 5 minutes you will need a lot longer to get through the crowds, flyers and queues.
3. Edinburgh's a city, not just a festival, so be a considerate visitor. The very best way to do this is to always have the exact change for the bus!
Human-animal interaction is real to many people – both non-communicative and through speech. Your show explores this topic. Which animals did you choose to represent and why?
We have chosen two specific animals – Alex the Parrot, and Peter the Dolphin – because of their fascinating real-life stories and the relationships they had with their humans.
What key message do you hope comes across to your audiences?
I think we'd like our audiences to come away with questions rather than a message, about how we communicate with each other, and how good we are at really listening to each other.
If animals like dolphins can communicate, can they also express emotion like love and hate, and memory? Or is a purely human trait?
That's a tricky question, and a big part of the reason these stories are so interesting to us! It's sort of impossible to ever really know for sure because we can't help but give animals human traits, but we don't know what they're really feeling or if they have the same ways of feeling as we do. We do know that we have observed animals doing things that seem like grieving, or playing, that don't necessarily seem to make 'sense' in terms of survival.
But it's difficult – how can we even know other humans are feeling things in the same way as we are? The words we use to describe feelings can sometimes seem inadequate and that's what the show is about – do you mean 'I love you' the way I mean it? Does it matter?
You wear a wetsuit in some of the publicity shots and jump into a paddling pool! Will there be a 'splash zone' like at sea world and do audience members get to interact with the animals?
The audience are generally pretty safe from getting splashed, but you never know! There isn't any audience interaction in the show, but we hope audiences can enjoy seeing the animal's personalities come to life on stage.
How are you promoting your show in the run up to the Fringe?
We're on twitter (@wearesuperfan ) and Facebook (Superfan Performance). We have a preview in Glasgow at the Tron Theatre before we head to Edinburgh, and two previews at Summerhall on July 31st and August 2nd – tickets for those are just a fiver.
Lastly do you want to tell us where and when we can see the show?
We're on at Summerhall (Venue 26) in the Old Lab every day at 2.15pm from 31st July – 25th August (apart from 1st, 12th, and 19th August ).
Like Animals will be performed daily at 14:15 at Summerhall Old Lab (Venue 26) July 31st, August 2nd-11th, 13th-18th and 20th-25th. Tickets available from the Fringe Box Office.