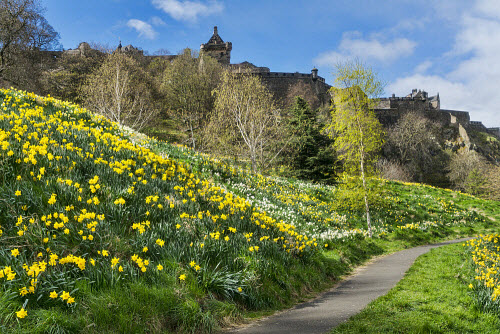 We just wanted to wish all our Welsh readers Happy St David's Day / Dydd Gŵyl Dewi Hapus!
As you can see the daffodils are out in force in Edinburgh in celebration. And we hope to be celebrating Welsh talent this year at the Fringe.
Already two Welsh acts are confirmed. Firstly, music legend Mike Peters, best known as lead singer of the Alarm. Among his many achievements are being awarded an MBE in the 2019 New Year Honours for services to cancer care, one of the first people ever to create a website dedicated to a music band website back in 1992, and establishing one of the world's leading rock and roll cancer charities – 'Love Hope Strength Foundation'.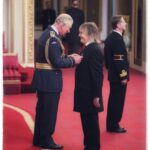 Mike Peters will bring his show 'Hurricane of Change' to the Ghillie Dhu this summer.
"This unique one-man performance binds classic 1980s Alarm album Change into a powerful theatrical narrative, backed by emotive electro-acoustic rock concert dynamics…A show packed full of hits and more that has already been described as the must-see acoustic concert of the year."
Tickets available now from from the Fringe Ticket Office. (2 shows available).
Secondly, Cardiff's Miss Aida H Dee will be bringing her Drag Queen Story Hour show to the Fringe with daily readings at the Assembly George Square Studios. Drag Queen Story Hour UK aims to show the world that being different is not a bad thing, and by providing imaginative role models for children to look up to, 'changing the world book by book!'
Miss Aida H Dee is an autistic and ADHD advocate and all Edinburgh shows will be autism friendly. 
"Are you sitting comfortably kids? It's time for Drag Queen Story Hour – an interactive storytime like no other! Join in on the interactive fun with sing songs, stories and lots and lots of jumping around! Miss Aida H Dee is the first drag queen in the UK to read stories to children in a nursery. She has travelled from Guernsey in the Channel Islands to the Brighton Festival at the Brighton Dome. This August, she comes to Edinburgh for her nationally acclaimed Drag Queen Story Hour show!"
Tickets for Drag Queen Story Hour now on sale from the Fringe Ticket Office.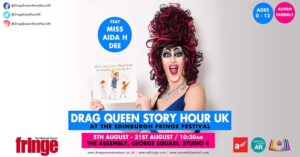 Lastly, we would like to mention Ffion Jones, who won our 2019 Poster Competition with her amazing artwork on the poster for her show 'The Wrong Ffion Jones'. We hope to see you back at Fringe this year Ffion!