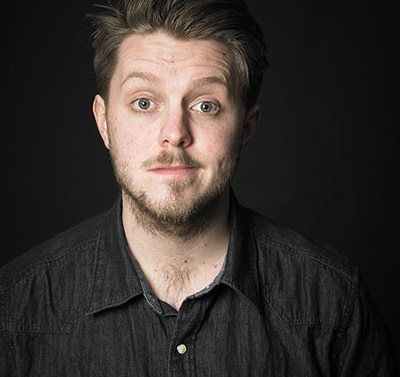 Overall Rating

'Hack' is an exploration of the impact technology is having on our lives by comedian/ poet James Bran. His show promises to delve into "phone addiction, privacy paranoia and the "disruption" of democracy by a handful of data-snatching tech firms". Bran states that it is time for "comedy analytica", but sadly only delivers random unconnected facts interspersed by mildly amusing anecdotes. This show feels like receiving a holiday photo from a friend via a faulty dial up modem in 1998 – you were pretty sure it was worth seeing but the delivery meant we never got to see the full picture.
Review Date : Tuesday August 13th 2019. For Tickets – click here.
Content

Unfortunately the content of the show failed to deliver. From the show's description I was either expecting a tech guru with lots of insider stories and jokes about the industry, or a stand up with lots of hilarious personal stories about using tech. Sadly it was somewhere in between – a TED talk without many facts and a stand up routine without many jokes. The show meandered from personal stories about Bran's grandfather to expensive fridges to big data to driverless cars. It ended with a vague half-hearted plea for us to talk to our politicians about big data issues. Sadly, there were some important issues waiting to be explored here, but his style and delivery perhaps best suits other topics.
Audience Engagement

The show did not start well and proceeded downhill. There were pockets of laughter in the smallish audience, but Bran did much to isolate the audience from the outset. We were told how he 'could not be bothered' flyering that day to bring in an audience, implying our tough luck if there was few seats taken with little atmosphere. There was the rant about how much it cost to stage a Fringe show, the comments about Edinburgh and Scotland that I perceived as anti-Scottish, and the immediate shutting down of an audience member asking a question. Overall, not a pleasant or positive experience. Admittedly there were no walk outs and polite applause at the end, but from the speed of exit of the audience, I suspect no-one was queuing up for autographs.
Staging

For a stand up routine about technology, the staging was remarkably low tech. The projector was difficult to read, the clicker did not work, and the multimedia used in the staging only occasionally felt 'synced' with the content of Bran's routine .
Originality

There were some sparks of original thinking here, on technology topics that are rarely explored in stand up comedy, but the execution was frequently lacking. The fridge section exhibited fresh thinking, but the other topics skipped around and lacked both depth of content and humour.
Artistic Performance

I sensed there was talent hiding here, but it sometimes got lost in the material. At times there was a lack of confidence in delivery, at others a nonchalance. Given different material, maybe even a different day, the outcome could have been very different. In front of the right audience and performing pure stand up without the tech props, I suspect Bran would achieve a much higher star rating.
Note the EFC pay full ticket price for every show they review. The criteria by which we review and rate shows can be found here.