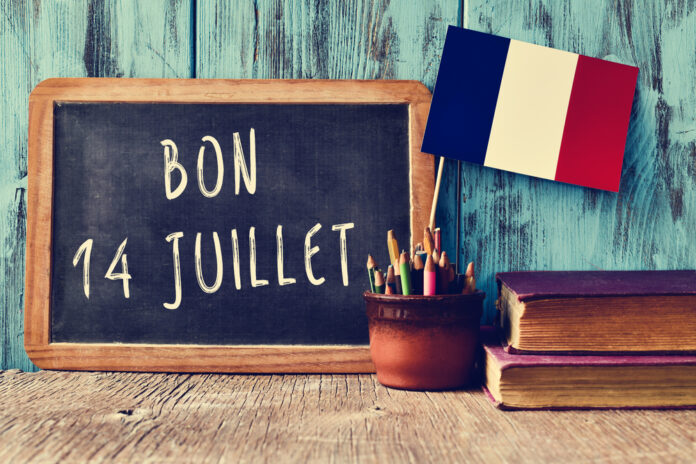 Bonne fête nationale a tous! Yes, it's Bastille Day today so to celebrate le 14 juillet, we have picked out 10 shows from French artists or those with a French theme that we think are worthy of your attention. Vive le Fringe, vive la France!
1/ Right in the Eye – Live Movie-Concert of Georges Méliès' Films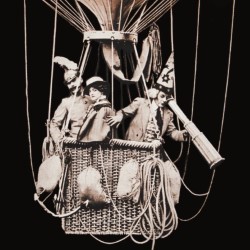 An interesting mix here of French music, cinematography and sound. "A live trio of French musicians intertwine playful modern compositions and the fantasy of the legendary filmmaker Georges Méliès, father of cinema and the inventor of special effects. French composer Jean-François Alcoléa and his fellow musicians use sound and image to create a universe as inventive as the filmmaker's creations were. 'It is at once inventive, elegant and moving' (Chronique, Festival OFF d'Avignon). 'Creatively intelligent. All the sounds and music brought Georges Méliès' films to life' (Houstonian)."
Tickets available now from the Fringe Box Office.
2/ A Voice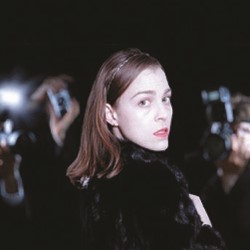 "1971. Paris, France: a young woman faces a choice. Will she use her influence as a pop music sensation to speak out about women's rights, or keep quiet to save her career? With a classic 60s soundtrack and live singing, this solo musical charts the rise and fall of starlet Angéle. Plucked from obscurity by music impresario Francois, she lets him shape her into a Eurovision-winning idol. But in the aftermath of a doomed love triangle and a career-rocking scandal, she may have an even bigger opportunity to raise her voice for women."
Tickets available now from the Fringe Box Office.
3/ Worldwidewestern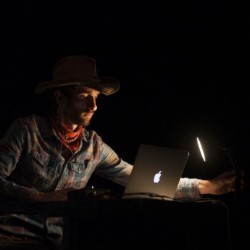 Another artistic fusion here, this time digital and theatre. And like the first entry to our list, it is being performed at the impressive French Institute Building. As this is in the French Consulate, you will technically be on French soil whilst watching!
"No horse, no band of Apache warriors waiting with knives between their teeth, no pretty French cancan dancer for the hero to shag, no grit, dust or duty for historical accuracy. This cowboy doesn't care. The Wild West is just a click away on the World Wide Web. Fascinated by cowboys' squinty-eyed looks, and armed only with the savoir-faire of a modern geek, Raphael Gouisset, Associate Artist at La Manufacture Centre Dramatique National Nancy-Lorraine, stars in this digital western lauded for showing 'theatre and digital technologies can join forces for the best of live performance' (L'Est Républicain)."
Tickets available now from the Fringe Box Office.
4/ Ruby in the Rough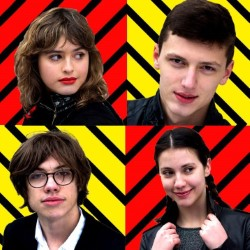 A young Parisian rock group here. They have a late night performance so a lively French midnight wake up call if you've already had too much vin rouge!
"Ruby in the Rough – original pop/rock music tracks performed by four teenage Parisians. Forget Brexit and embrace your European cousins! Perfect late-night Bistro-style atmosphere at Forest Theatre. Elisa, Emile, Lucas, Victoria."
Tickets available now from the Fringe Box Office.
5/ The Rime of the Ancient Mariner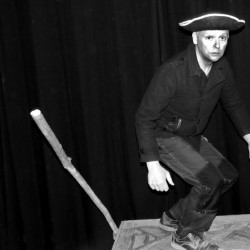 "From its start, the Piccolo Teatro Nexonnais has desired to establish theatre plays whose content evokes deeper aspects of the human comedy. The poem The Rime of the Ancient Mariner written by Samuel Taylor Coleridge in the 19th century is an almost cinema-topographic text among English romantic poetry of the time. Naturally, it lends itself to theatre. To this endeavor the Piccolo Teatro Nexonnais have given precedence to the trestle table technique, Theatre du Tréteau, thus giving a lively and incisive evocation of the poem."
Tickets available now from the Fringe Box Office.
6/ Paris de Nuit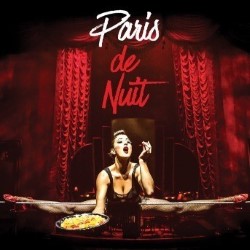 A French list would not be complete without a little taste of Parisian nightlife. Paris de Nuit hopes to bring you that!
"Recirquel returns to the Fringe with Paris de Nuit's stunning circus artists, dancers and musicians bringing to life the decadent yet lovable Paris of the 1930s, filled with desires and beauty. An evening of lust, love and loneliness, inspired by the voluptuous images of Hungarian photographer Brassaï. The roaring variety life of Parisian nights is revealed in illusionary moments from the lives of prostitutes, peddlers and down-and-outs who lived on the edges of society. Enjoy the intimate closeness of breathtaking circus right above you! Paris de Nuit is the quintessence of an unforgettable night! A Müpa production."
Tickets available now from the Fringe Box Office.
7/ Tête-à-Tête: Paris-Edinburgh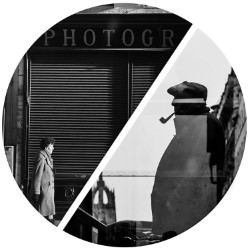 Celebrate the auld alliance with an exhibition of photographs from both Edinburgh and Paris,
"Tête-à-Tête: Paris-Edinburgh is a collection of original contemporary photographs taken by Ewan Barry and Audrey Pinard. The exhibition features street images as well as architecture and interiors in the two cities – all taken near the Blackfriars Street venue and the 17th and 18th arrondissements in Paris."
Tickets available now from the Fringe Box Office.
8/ Fishbowl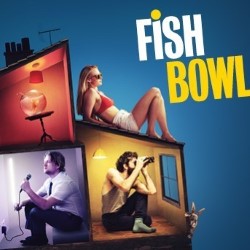 French Farce meets Friends. This award-winning production has amazing staging and will leave you filled with joie!
"The hilarious misadventures of three eccentric and lovable anti-heroes crammed in their wacky rooftop bedsits. The funniest show in Europe comes to Edinburgh after a sell-out tour. Molière Award for Best Comedy Play. Physical comedy extravaganza! Paper-thin walls barely separate three neighbours who strike up unlikely and moving friendships. The show packs a punch with technical genius, an incredibly realistic set, and tricks and surprises that shock and delight audiences. Fishbowl premieres in the UK, expect Charlie Chaplin and Mr Bean antics. ***** (Le Monde). '1001 gags' ***** (Le Parisien). 'A comic explosion' (Télérama). 'Belly-wrenching laughs' (Le Figaro)."
Don't forget to check out our interview with Pierre Guillois who talked to us about the show. Click here.
Tickets available now from the Fringe Box Office.
9/ Le Monocle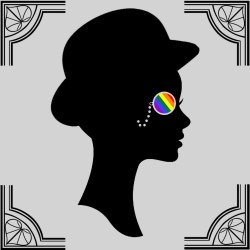 Next to pre-war Paris, and a true story of lesbian nightlife and espionage!
"Le Monocle follows the story of Francine as she discovers the eponymous lesbian bar. Her story is interwoven with that of Violette Morris, an acclaimed athlete-turned-Nazi SS agent, and the LGBTQ+ community of 20th-century Paris. A story of compassion and community, Le Monocle is about how we cope with prejudice in the face of cruelty."
We interviewed writer/ director of Le Monocle Tiff Milner back in April about the show. Click here.
Tickets available now from the Fringe Box Office.
10/ Notre Dame de Paris aka The Hunchback of Notre Dame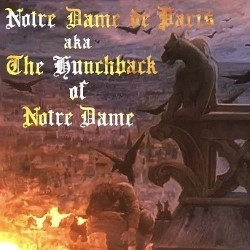 NDP circus debated long and hard about whether to continue this show given the recent tragic fire at Notre Dame Cathedral. They did and we have included in the press release below explaining the reasons in more detail.
​"The mayhem of the Court of Miracles, Quasimodo's torment, screaming gargoyles and the tragedy of Esmeralda's passionate naivety. With a diverse and multitalented cast drawn from circus, theatre, music, dance and unique costume inspired by its Parisian setting, the company unfold a fantastic retelling of this timeless story that explores issues of universal relevance, exclusion, class and the abuse of power. Staged in a traditional circus ring, the handcrafted 12-metre-high set and rig honour the significance of Notre Dame Cathedral as a pinnacle of medieval Gothic architecture."
Tickets available now from the Fringe Box Office.
"
"After the initial shock at the tragedy of the fire at Notre Dame Cathedral, my first consideration after seeing that no one was hurt and that the 800 year old cathedral survived was, What does this mean for my show?
I have been visiting Notre Dame and working on a theatrical circus version of Notre Dame de Paris by Victor Hugo,  deciding to create and tour it this year with rehearsals beginning the day after Easter, everything was planned and dates set, with a tour beginning in Brittany and continuing via Devon and Wales to the Edinburgh fringe festival in August.
​
This was to be a show featuring horses and aerial skills ,theatre,dance and acoustic music and featuring a 600 pipe church organ , built using iron,oak and natural materials and lit by fire,flame  and candlelight. The towers were to burn with fire when the truands attack the cathedral as Quasimodo rained down molten lead on the attacking forces, Esmeralda would burn rather than be hanged, fire was everywhere.
So much more than a 19th century romantic Gothic Fantasy, Victor Hugo wove universal themes of abuse of power, racism, intolerance and exclusion  into an epic tale where Notre Dame Cathedral and Ananke or Fate take leading roles, this was my challenge and my justification, this has remained a timeless story because it addresses constants, archetypal human characteristics, innocence, strengths and weaknesses, as valid today as when Victor Hugo wrote it, the same dramas, the same injustices unfold, human greed, lust and avarice play alongside love and compassion.
​
I delved deep into the history of Notre Dame, researching the instigators and builders who created this monument, I questioned their motives, examined the minutiae of carving and detail, marvelled at the drive to build such an awe inspiring structure and the faith and belief that inspired and  drove the masons and master craftsmen. Reading of the Benedictine monks who farmed and contemplated nature in the great monasteries of the 12 century, The symbolism and meaning of everything, God was present in a leaf, a flower ,trees ,the weather , all of nature, The advent of the great Gothic Cathedrals across Europe with their naturalist carvings and sense of light, complementing and paying homage to the beauty of nature,  The dark side of managing the house of God, where religion takes responsibility and monopolizes the conversation with God, 'Your life on earth is hard and short, but pay your church dues and observe our rites and we will guarantee that at least in the afterlife you will know joy'
 
Searching for Esmeralda, assembling a cast, collecting materials, ongoing social media discussions about costume, music, special FX and the nature of Ananke, Does man have freewill or is all predetermined? What is fate? Do we have choice?
Philosophical discussions unwound late at night on whatsapp or messenger across countries; religion, alchemy, Plato, Virgil, Aristotle through to nature, celtic art and the Gods and Goddesses, Mother Nature and Chaos.
Synchronicity and coincidences everywhere, things happened as they should within the chaos of a healthy environment.
 
Practicalities, trailers, horses, money, vehicles, set, metal, wood, generators, toilets, insurance, tentage, rehearsals, a cook.
My joy at setting off on another circus journey, involving horses ,travelling, collaboration, great people and creativity, mud, sweat and tears ,all life is here.
How on earth can I built something that is even a reflection of Notre Dame Cathedral?
How can I do justice to such a story?
And I dreamed and let myself dream into the life of the story and always visiting Notre Dame Cathedral whenever I could. Dreaming Quasimodo's torment and Esmeralda's passionate naivety, Frollo's twisted brilliance and Phoebus the arrogant peacock, Fleur de Lys' privileged complacency and Gringoire's incompetent vulnerability, the horror of the faceless terror of the church and state, and the fickle cruelty of the mob.
 
All this and it was just a story, a story written in 1831, set in 1482 about a Cathedral built in the 12th century that we would recreate and tour in 2019.
A magical tale that we would be proud to show, a collaboration of artists, makers, performers and dreamers brought together to bring our show to the people and take it on the road.
Always swinging between excitement and panic! Passion and fear! How on earth would I manage it?
It was just a story. It will be OK
And then on Monday night I got a phone call;
'Notre Dame is on Fire'
I struggled to understand, 'what do you mean?'
'Notre Dame Cathedral, It's on fire!'
Everything changed,
looking at the images , watching the spire fall, watching the roof burn, this could not be happening, and then 'what about the show? Can we still do it? What does this mean?
 
Watching through the night as once again the Cathedral survived, Fate had taken a hand, watching the outpouring of grief and emotion, it meant far more than just a religious building, The fire hit France in the heart.
Watching as huge donations were pledged within hours of the fire, struggling to understand and square this with the just causes that are desperate for funds, publicity and support in this cruel and unfair world. Struggling to equate this with Paris being the homeless capital of Europe and all the ongoing war, injustice and misery that continues to rage across the world.
Watching as a sense of relief took hold that it was still standing, It would be reborn, Easter and rebirth are here, a reincarnation, the wheel turns.
Do we still do the show?
Yes, Fate has cast the die, it has come alive and become real and important in a way I never envisaged, I have no idea how this latest evolution will play out, we will start rehearsals on Tuesday, we will tell the story of Notre Dame de Paris and honour Notre Dame Cathedral, Ananke and Humanity.
​
Paul Liengaard
17/04/19
https://www.ndpcircus.com/the-fire-at-notre-dame?lang=en
Note – Our recommendations for the shows listed above is based on preview material only, and is no guarantee of the quality of live performance of the shows.