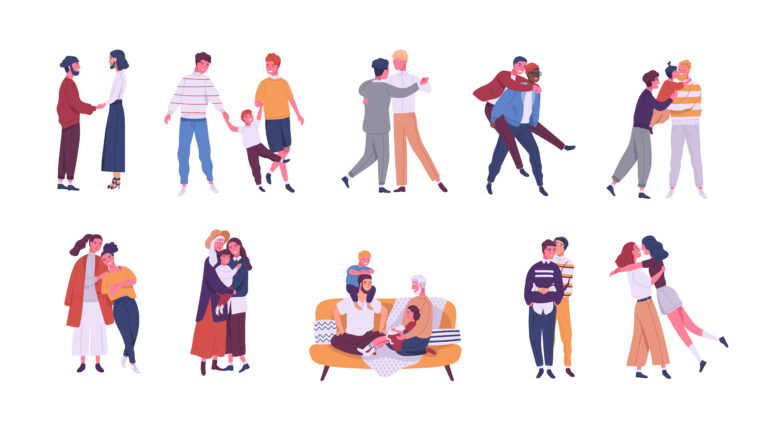 There are just 97 shows categorising themselves as 'LGBT' on the Fringe listings. Yet this is definitely a case of quality over quantity and we had the near impossible task of choosing just 10 shows in our shortlist. Our list includes a bisexual Bridget Jones, transgender performers at a radical dance party, a gay celibate, the gay son of a lesbian mother, some dark gay and queer plays to challenge your perceptions, and some gay ' trash-fash'. Don't choose which of these to see, simply catch them all!
1/ Algorithms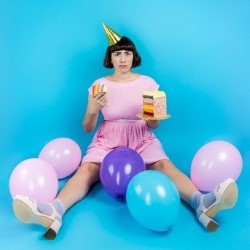 If the trailer is anything to go by (see our interview below), this looks like being a sure winner of a show!
"Brooke has it all: the job, the flat, the girlfriend… but what happens when things go tits up just before your 30th birthday? A bisexual Bridget Jones for the online generation, this tragicomic one-woman play and its lovably hapless heroine is for anyone who's wondered why they feel so lonely when connecting with others is meant to be easier than ever. Developed on the Soho Theatre Writer's Lab and longlisted for the Tony Craze Award 2018. 'A brave, bold and brilliantly funny show' (Lisa Walters, Channel 4). www.sadieclark.co.uk @AlgorithmsPlay".
If you want to find out more, check out our interview with writer/ performer Sadie Clark. Click here
Tickets available now from the Fringe Box Office.
2/ Collapsible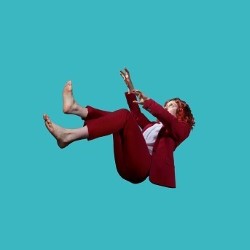 There has been a fantastic buzz about this production this year, and the writing and staging look all set to live up to expectations. Definately one for your 'must-see' lists!
"'I'll tell you what I really want. I want to jump clean out of my brain.' Essie's lost her job. Her girlfriend's left. But she's alright. Except lately she feels more like a chair than a person. One of those folding chairs. Solid one minute. And then. From award-winning Irish writer Margaret Perry (Porcelain, Abbey Theatre), Collapsible is a funny, furious new monologue about holding on in this collapsing world. For anyone who has ever felt crumbly. Origins Award for Outstanding New Work, VAULT Festival 2019. 'The ambition and vision of the best Irish writers' (Independent, for Porcelain). "
Check out also our interview with Margaret Perry (writer/ performer of Collapsible). Click here.
Tickets available now from the Fringe Box Office.
3/ Dark Play or Stories for Boys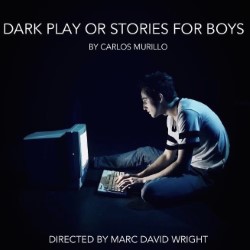 This play sounds eerily like some real crimes of late. The dark world of the web, fake personalities and deceit brought to the stage. This play is now over 15 years old, so in internet terms pretty ancient, yet its themes are acutely topical and relevant today.
"An outsider at age fourteen, Nick discovers the intoxicating pleasures of inventing fake personalities in the chat rooms of the World Wide Web. Adam's online profile, and the words 'I want to fall in love' pique his curiosity. Nick invents Rachel, the girl of Adam's dreams, and charms the gullible boy into a cyber love affair. As Nick's creation grows beyond his control, his curiosity becomes obsession."
Tickets available now from the Fringe Box Office.
4/ For Only an Hour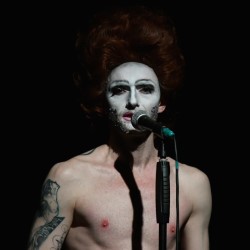 A dramatic production, described by one London reviewer as 'rich and strange', this unusual production might possibly divide audiences, but is sure to be memorable!
" 'Sanger is one of the most versatile artists on the British stage, as this performance amply demonstrates' (Dance Europe, 2018). Danced to a hilarious medley of Angela Lansbury, Delia Smith and Bette Midler this one-man romp is a pseudo-glamorous jaunt through pop culture, queer art, childhood dreams and life-changing surgery. It may be entertaining, but it demands a punishing vulnerability of the performer with surprises at every turn. Supported by haunting music by Donna McKevitt, glittering queer garments by Andrew Walker, mentoring by Wendy Houstoun and a unique improvised lighting design by Jen Wren. "
Tickets available now from the Fringe Box Office.
5/ Fudge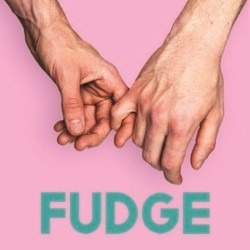 Limerence Productions are no strangers to Fringe, and whilst many productions focus on the 'sex' in sexuality, this is a fresh approach and looking at gay celibacy. Comedic possibilities aplenty.
"Charlie's had enough. He's giving up sex. No more booty calls. No more walks of shame. No more sleeping with that guy who gave him gonorrhoea… twice. He's taking a breather. He's having some me time. He's learning to love himself. He's bought some face masks so he's already halfway there. After two total sell-out Fringes, the internationally award-winning Limerence Productions is back with Fudge: an honest, warm and witty exploration of the difficulties of gay celibacy. 'You don't have time to draw breath for laughing' ***** (UKTW.co.uk). 'The script is absolutely spot-on' ***** (TheatreReviews.Design). "
Tickets available now from the Fringe Box Office.
6/ Joseph Parsons: Baggy Point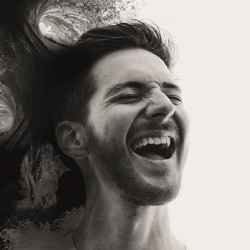 Joseph has a natural energy and warmth. This engaging comedian has a tale to tell and hopefully many of you will get to hear it.
"Joseph Parsons (as seen on Channel 4) presents his uplifting, sell-out show, Baggy Point. With his lovable and electric energy on stage, Joseph tells the story of discovering his sexuality as he clumsily navigates his way through social gatherings, love and living in a different country. Joseph also looks at how the perceptions of sexuality in smaller towns and homophobia in football affect younger people growing up. "
Tickets available now from the Fringe Box Office.
7/ Son of Dyke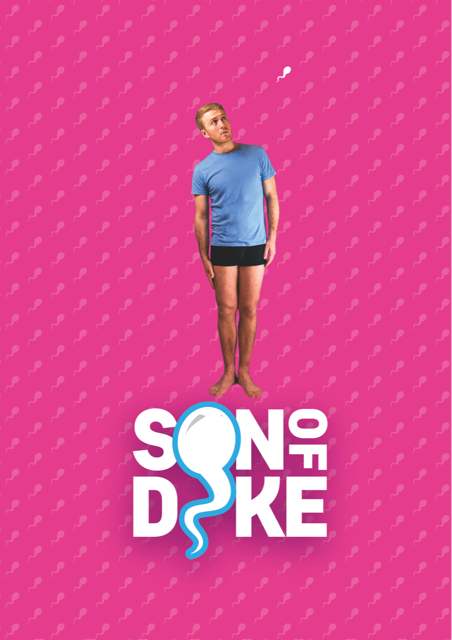 Remember Lord Alfred Paget in TV series 'Victoria' or Churchill's son Randolph in blockbuster film 'Darkest Hour'? Well, that was Jordan Waller, and his show is all about his own heartwarming story. We are sure he will win over many fans new fans with this show.
"Following a sell-out, five-star run at Vault Festival in London, Son of Dyke is the hilarious true story of a young, cocksure gay man who crumbles after the death of his lesbian mother, which launches him on a journey to find his sperm-donor father. Written and performed by Jordan Waller (ITV's Victoria, Darkest Hour), it's an evening of outrageous humour and poignant storytelling that gets to the heart of what it means to be a modern man. 'Dynamic, delicate, direct and definitely something you should go and see' ***** (AYoungerTheatre.com). "
Tickets available now from the Fringe Box Office.
8/ Sound Cistem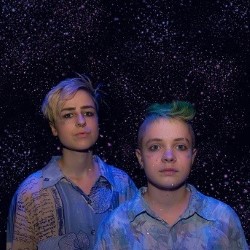 An interesting concept and has lots of potential to be a Fringe success.
"Two transgender performers say 'up yours!' to the gender binary and invite you to their radical dance party! Under disco lights, over pulsing music, a queer celebration takes place. Set in nightclubs, Sound Cistem is an exuberant verbatim show about the cisgender gaze on the transgender body. Featuring recorded interviews from trans and non-binary people, a self-love manifesto is made through riotous, glittering disco. This duo keep moving to reject conformity and shame, despite the current transgender debate. See the beauty in these bodies. **** (Scotsman). **** (List). "
Tickets available now from the Fringe Box Office.
9/ Tom Lenk Is Trash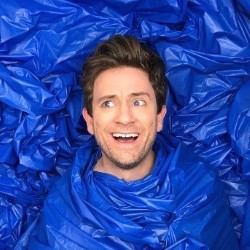 With hundreds of thousands of instagram followers and a coveted blue tick, Tom is an online powerhouse. And with rave reviews for shows such as 'Tilda Swinton Answers an Ad on Craigslist', he is also a Fringe favourite too. Should be on everyone's Fringe list!
"In 2016, SAG Award-winning, middle-aged scene-stealer Tom Lenk (Buffy, Tilda Swinton Answers…, Transparent, HBO's Room 104) accidentally achieved what millennials and wannabe social media "influencers" desperately crave: Instagram superstardom. Using 'household junk and sly humor' (New York Times), his 'Lenk Lewk for Less' red carpet parody photos and videos have garnered 500k followers, hundreds of millions of views, and reposts from your fave celebs (Kylie Minogue?!). Now, Lenk combines comedy, trash-fash, hot glue guns and all things half-assed in this hilarious hour of craftertainment. 'Lenk is brilliant' (Guardian).
Tickets available now from the Fringe Box Office.
10/ Thief by Liam Rudden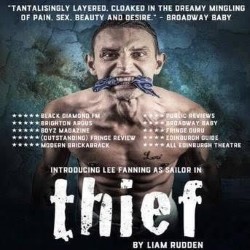 Because not all gay life revolves around glitter, Kylie and unicorns. You should always see one show at Fringe which takes you out of your comfort zone, and this play certainly promises that. Also there are very high expectations of actor Lee Fanning from some of the reviews we have read. Worth a shot!
"Sailor thrives in bars, dives and doss houses. He lives for robbery and expulsion. Join him. This award-winning dark piece of theatre by Liam Rudden will leave you disturbed yet spellbound. Not for the easily offended. "
Tickets available now from the Fringe Box Office.
Note – Our recommendations for the shows listed above is based on preview material only, and is no guarantee of the quality of live performance of the shows.