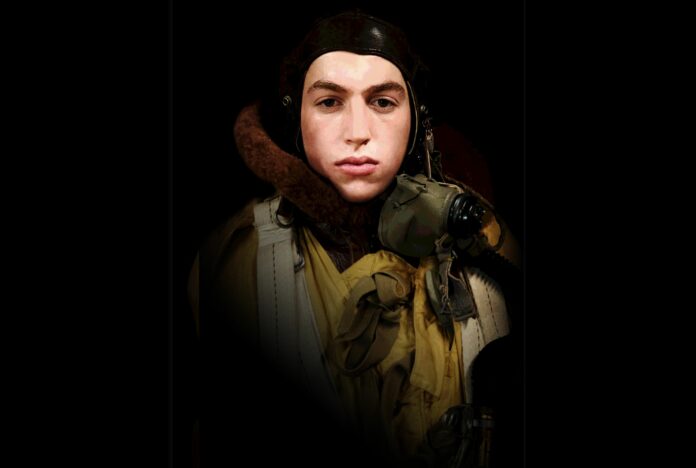 Today we talk to Silksheen Productions, who are bringing their show 'Wireless Operator' to the Fringe this summer. This tense and visceral' play tells the claustrophobic tale of an aircraft trying to survive a mission over occupied Europe through the eyes and ears of the wireless operator. Will his Lancaster survive the constant flak and attacks from enemy aircraft? If the staging and execution of Wireless Operator lives up to the concept, this could well be one of the key shows to see and a real success story of Edfringe 2019!
Can you introduce yourself and your show?
Silksheen Productions has been created to produce Wireless Operator.
Stephen Graham and Hilary Townley worked together on the critically acclaimed production of Venus and Adonis (Edinburgh Festival Fringe 2017 and London 2017). Bob Baldwin is the writer and director and Jan Baldwin, Bob's sister, is an award winning photographer.
Wireless Operator is an exciting new play telling the gripping true story of a terrifying night-time Lancaster Bomber raid in WW2. It reveals the impact on the airmen who survived, and the lifelong legacy felt by their families.
What is the top reason people should see the show?
It's a great piece of theatre based on true life stories that resonate today, particularly shedding light on PTSD and the effect it had on the airmen themselves as well as their families. This thrilling and visceral play uses daring production techniques to tell the story through the eyes and ears of the wireless operator. It is tense, but also very moving and shocking.
It's a one man play but with a cast of nine whose performances will be heard but not seen!
What does a 'successful Fringe run' mean to you?
We hope that this year's Edinburgh Fringe is just the start of the life of Wireless Operator. We hope it will be critically acclaimed, generate a buzz and we will sell out! We are looking to tour the show after Edinburgh and bring it to London.
What 3 top tips have you got for Edinburgh Fringe first timers?
1/ Don't be over 30 years old!
2/ Take waterproofs and thermals.
3/ Flyer with an endearing dog… he attracts the most attention!
4/ Independent wealth! (which we haven't)
Wireless Operator is a new piece of theatre, and great to see that it is premiering at the Edinburgh Fringe! Was the writing inspired by any real RAF crew from WW2?
100% it was! John, the wireless operator of the title, is based on Sergeant JJ Baldwin, the father of Bob Baldwin (one of the writers and our director). Everything that happens in the play is based on true life experiences.
What key message do you hope comes across to your audiences?
The play should terrify and move audiences.
Its subject matter should make us reflect on what we ask others to do in our name, for what reason, and to make us more alert to what we do to care for them afterwards.
It's a counterpoint to all the glamour and heroism usually depicted in films and plays about the RAF during WW2 and it has significant resonance today in that it sheds light on what we now recognise as Post Traumatic Stress Disorder (PTSD).
On your website, you note that, 'Unusually for a small show, we are planning on large production values.' Tell us a bit more about how you are staging the show and the soundscape.
It's a small show in that there is only one actor on stage but a substantial cast who are unseen. John, the wireless operator, interacts with the other crew members, communicating through his radio headset as in real life, and some characters are only in his thoughts and imagination. We hear them but never see them.
We are designing a really unusual soundscape to support the dramatic narrative of the show. We hear the visceral sounds of bombs being dropped, the aircraft flying through flak, etc. The iconic sound of the Lancaster Bomber's famous Merlin engines have been manipulated, morphed and mixed to create an almost symphonic score. The physical reality of the flight will be suggested through a combination of creative lighting, projections and the actor's performance.
Your website mentions that you want to raise awareness of PTSD through the production. Tell us a bit about PTSD and how it affected Lancaster air crews.
Bob Baldwin was inspired to write the show when he found some of his Father's paperwork – log books for example – and surprisingly, for a man of few words and who left school at 14, a short story about his experiences as a wireless operator in a Lancaster Bomber.
He realised that what he was reading started to account for things that had puzzled him about his Dad while growing up, a man who seemed to be unreachable to Bob and his siblings. As he researched what happened to the survivors of Bomber Command he realised that every family reported very specific challenging issues about living with a survivor. The survivors of Bomber Command suffered in silence, unacknowledged and unheard but the effects of what we now know to be PTSD were felt by them and their families for the rest of their lives.
It can't have been helped by the fact that to this day, those who served in Bomber Command – which suffered the highest attrition rate during WW2 – have never received real recognition of what they sacrificed in the name of their country. The controversial nature of Bomber Command's activities, the bombing of civilians in places like Dresden and Hamburg, meant that members of Bomber Command were never awarded a campaign medal unlike all other participants of WW2 campaigns. This deliberate lack of recognition is still hurtful to survivors and their families.
This unacknowledged suffering resonates today with what we are only just realising can be the legacy of active service in the armed forces. PTSD is devastating and affects all aspects of life for those who suffer from it. Did you know that it's estimated that there are over 60,000 veterans in the UK who are homeless (at least 6,000), have broken the law and are suffering from mental health conditions?
How are you promoting your show in the run up to the Fringe? (Feel free to mention social media accounts and preview shows here)
We are building a quite a following through social media. (On Facebook, Twitter, and Instagram)
We have been thrilled by the interest in our project and surprised by how many people that we have spoken to with a connection, direct or indirect, to Bomber Command.
Lastly do you want to tell us where and when we can see the show?
Pleasance Courtyard (Below) Venue 33 – daily at 12:40 except 12th August.
Wireless Operator will be performed daily at 12:40 at the Pleasance Courtyard (Venue 33/ Pleasance Below) from July 31st-August 11th, and from August 13th-26th. Tickets available now from the Fringe Box Office.