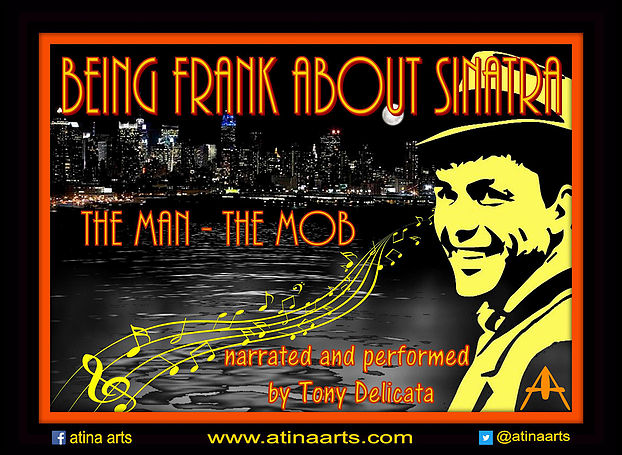 Tony Delicata's theatre career has gone full circle; from being a professional actor in London, to Fringe and pantomime productions, to creator of Atina Arts. He speaks to us today about the production he has written 'Being Frank about Sinatra', and what audiences can expect from the show.
1. Can you introduce yourself and your show?
My name is Tony Delicata. I have been an actor/singer for many years.
'Being Frank about Sinatra' is written by myself and I also feature and the narrator and singer in this one man show although in no way would I embarrass myself by saying that I try to impersonate Frank Sinatra The show is about Frank Sinatra, one of the most influential artists of the 20th century and his fascination with organised crime. The man they called, 'The Chairman of the Board', commanded deep loyalty from his friends and counted criminals among those he considered close. But with all his fame and adulation, why was Sinatra so attracted to the Mafia?
This show looks to open a few of those doors to Frank Sinatra's murky dealings with some of the most notorious mobsters in American history, as well as taking a brief look at a health issue that gripped Frank in his later years. A production about Sinatra would not be complete without a spattering of songs from man's amazing back catalogue
2. What is the top reason people should see the show?
If you are a Sinatra fan and have always been intrigued by the man's Mafia connections then this is the show for you.
3. What does a 'successful Fringe run' mean to you?
A successful Fringe would mean to me that this show has good audience potential to take it to the next level.
4. What 3 top tips have you got for Edinburgh Fringe first timers?
1. Don't come to the Edinburgh Fringe expecting to become famous 2. Don't expect to make money 3. Embrace being part of the world's largest arts festival.
5. What is your favourite Sinatra song and does it feature in the show?
Not an easy question as there are many but if I had to push the boat out, I would have to choose, 'One for my Baby'…..no wait…..'Come fly with me'…….hmm maybe, 'Witchcraft'…….now do you see my problem!!!! Sadly none of these songs feature in the show.
6. Are the songs for the show recorded or sung live? How do you keep your voice in top condition over the course of a Fringe run?
I sing the songs live using orchestrated backing tracks. I keep my voice in top condition using an age old recipe of Jack Daniels, crushed ice and more Jack Daniels!!
7. What's the most important thing for you to nail, when playing Sinatra?
I actually don't play Sinatra. This show is more of a narration from me about Sinatra's association with the Mafia but if you wanted to nail Sinatra's singing style then don't sing on the beat and use the mic as an instrument and not just something to make your voice louder.
8. How are you promoting your show in the run up to the Fringe?
You can find details about the show on:
Facebook: Atina Arts
Twitter: @atinaarts
Show website: www.atinaarts.com
Venue website: www.paradise-green.co.uk
Fringe website: www.edfringe.com
and the usual posters and flyers around town!!
9. Sinatra was a famous party animal in his day. Where is your favourite Edinburgh hang out when not on stage?
My favourite hangout is my home….I know. I'm such a saddo!!!
10. Lastly do you want to tell us where and when we can see the show?
Being Frank about Sinatra runs from Monday 12th – Sunday 25th August (no show on Sunday 18th) at Paradise in the Vaults: venue 29, 11 Merchant Street. EH1 2QD.
Being Frank about Sinatra will be performed daily at 19:50 from August 12th-17th and from August 19th-25th at the Paradise in the Vault (Venue 29/ The Vault). Tickets available from the Fringe Box Office.