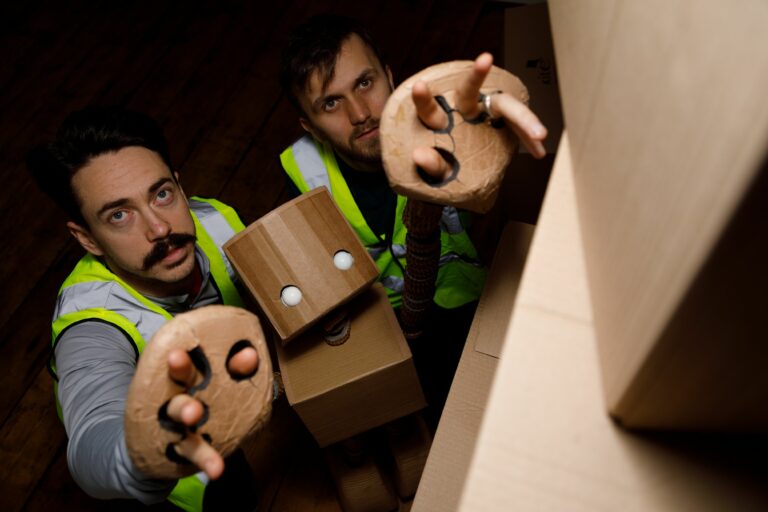 Today we speak to Shark Legs and their show Fulfilment. This interactive puppetry production explores the topical issues around online shopping delivery centres and asks what price really pay for next-day delivery. The show is created live every day based upon the wishes and desires of the audiences. Fulfilment is an innovative production which promises to explore a topic which impacts us all.
Can you introduce yourselves and your show?
We are SharkLegs and we make visual theatre, which means we get to steal bits from all the great performance traditions and put them together to tell new stories. Our show, Fulfilment, looks at the experiences of Amazon Warehouse workers, the people who pick, pack and deliver everyone's orders every day. We mix Bunraku puppetry with verbatim accounts from Warehouse workers, looking at what really happens when we press next-day delivery.
What is the top reason people should see the show?
To meet our gorgeous puppet Robox! Robox is your personal fulfilment device, he has been delivered to the theatre to fulfil the audience's hopes and dreams – as well as their desire for Hobnobs… If you come to the show you may get a Hobnob! While the show deals with some serious issues about our responsibility as consumers, it is also disarmingly funny and playful. And involves Hobnobs.
What does a 'successful Fringe run' mean to you?
It means connecting with the amazing audiences that only the Fringe can offer! There's nothing like the openness of the audiences at the Fringe, if your show captivates them, they will go with you and commit to the show like no one else. The mark of success for us is when audiences come up to you after and want to talk about their experience of the show. A place on the sold-out board is also pretty good…
What 3 top tips have you got for Edinburgh Fringe first timers?
Talk to people and make connections – you don't necessarily know who is coming to your show, it could be the next artist you work with, or a programmer who gives you a residency, or someone who will go and talk about you and your show to 5 of their friends. Whoever it is, start some new conversations.
Get out of the bubble for some time. It always feels like the rest of the world disappears and all that is left is flyering, reviews and shows, but the rest of the world is still there, just outside the city – go to the seaside, go up the hills, go somewhere for a few hours which can blow the bubble away, and breathe!
Find a balance between throwing everything into the Fringe and your sanity! I love going to the cinema during the run – just a normal big cinema to see a silly blockbuster, it really takes you out of the bustle and crazy for a bit.
Your show is interactive based on the desires of each audience. How does that work?
Robox is there to give you the best experience possible, but in order to give you a great experience he needs to get to know you. As the audience take him through his start-up sequence, he starts gathering information about you – what colour do you want him to be? What is your favourite biscuit? Are you a weightlifting person or a yoga person? What's your vision of romance? Each of these small personal preferences allow Robox to discover who you are and what you want. Let Robox build your personal pathway to fulfilment…
What key message do you hope comes across to your audiences?
Amazon is really easy for us, we click on a product and it magically turns up, but it's not happy little elves working away and singing who make this happen. It is real people who must pick your product, pack your product and deliver your product – it's about asking people if they would still click next day delivery if they had to see exactly what goes on to make that happen.
In your research for your show, you must have read some interesting stories coming out of the Amazon Fulfilment centres and warehouses. What was the most shocking story you heard about?
Almost all the conditions we heard about are shocking, with the same issues coming up again and again in our research and during our interviews with Fulfilment Centre Employees. The monitoring and targets mean that the pickers (the people picking the items off the shelves) have 15 seconds to find, pick and scan an item. You are given a countdown on your scanner which then feeds the data back to your manager and tells them if you have kept up this rate throughout your shift. Which is 10.5 hours long. If you don't achieve these targets you will be fired – often they just get rid of the bottom 10% of workers with managers telling employees, 'you want to pick up the pace, you don't want to be in the bottom this week'. Often people are fired by text. These unrelenting pressures, impossible targets, as well as working in constant fear of losing your job are just the normal stories we heard again and again.
During the show we highlight several shocking stories but one that really hits home is from a guy who slept in a tent outside the warehouse during the Christmas rush. He couldn't risk receiving a disciplinary 'point' for being late whilst working 60 hour weeks of mandatory overtime.
Where does the name SharkLegs come from for your company?
We make theatre about the moment when the world turns, the moment when you cannot unsee what you have seen, and everything will change. It is the moment when humans see, for the first time, that the sharks have grown legs and are walking up the beach.
How are you promoting your show in the run up to the Fringe?
We are previewing the show in London at Greenwich Theatre on 22nd July and at the Waterside Arts Centre Trafford on 26th July which is really exciting! Please follow us on Twitter and Instagram @sharklegsco to get some idea of the insanity of prepping a show for Edinburgh!
Lastly do you want to tell us where and when we can see the show?
YES! We will be playing from the 1st – 25th August (not Monday 12th), at The Underbelly, Cowgate in Belly Laughs at 3.40pm.
Fulfilment is being performed daily at 15:40 from August 1st to 11th and August 1th-25th at the Underbelly, Cowgate (Venue 61/ Belly Laugh) . Tickets available from the Fringe Box Office.