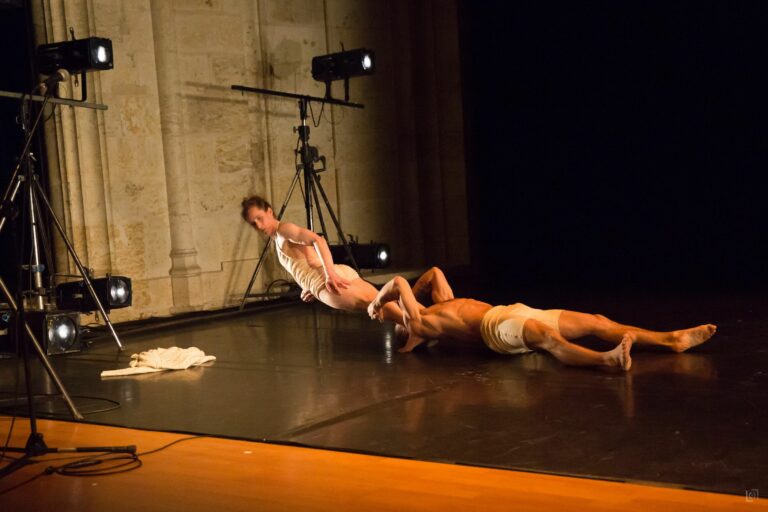 Today we meet Nikki Rummer and Jean-Daniel Broussé (Nikki & JD) who are bringing their show 'Knot' to the Edinburgh Fringe this August. Their show uses dance and hand-to-hand circus skills to tell the tale of an impossible choice: 'how can we be honest with ourselves without hurting those we love?'
Can you introduce yourself and your show?
We're Nikki Rummer and Jean-Daniel Broussé and we're the performers and creators of Knot, a circus, dance and theatre show. It's a show about our strangely intimate relationship as acrobats.
What is the top reason people should see the show?
The acrobatics are 'breath taking'; the movement is 'fluid' and the story is 'surprisingly funny'.
What does a 'successful Fringe run' mean to you?
It would mean being seen by audiences who don't know our work (and making them laugh and cry a bit). It would mean meeting programmers from across the world.
What 3 top tips have you got for Edinburgh Fringe first timers?
Bring a bike so you can see as many shows as possible per day without having to walk miles and miles
Enjoy meeting the other artists
Enjoy the heady atmosphere!
What is the background to your duo? How did you meet and develop your productions?
We met at the National Centre for Circus Arts nearly 6 years ago where we started to train hand-to-hand (partner acrobatics). The truth is, acrobatic partnerships are intense things. We know nearly every inch of each other's bodies; we spend a lot of time together; and we can't go on holiday without putting the other person out of work. We wanted to put this on stage and show the cracks between all those highly choreographed moments. Knot is our first show. We had the pleasure to work with Ben Duke and a team of dance choreographers and dramaturgs to create a story with heart, humour and movement.
What key message do you hope comes across to your audiences?
The people who annoy us most are also the people we love most.
Knot combines hand-to-hand circus skills and dance to tell the tale of an impossible choice. For the uninitiated, what is the difference between dance and circus movement?
This is such a hard question because it really depends on who you ask. It's a question we keep discovering in different ways as we work with different artists.
This is a huge over-simplification so please take this with a grain of salt.
Circus involves 'tricks' – such as back flips or somersaults – that take years to master and last a fraction of a second to execute on stage. Tricks are like the skeleton on which we hang our performances.
Dance is movement and the training frequently involves a detailed understanding of rhythm, articulation, softness/hardness, and everything about moving your body around in space (except, perhaps, how to do a trick!)
We love both.
Did you fall in love with circus first, dance or simply a love of artistic movement?
Circus was our first passion, for each of us, and our love for dance has developed as a slow burn.
How are you promoting your show in the run up to the Fringe?
We'll be promoting the show across our social channels @nikkiandjd, so be sure to follow us #KnotFringe. You can also check out @jacksons_lane for updates.
Lastly do you want to tell us where and when we can see the show?
We're on at 2.45pm at the Assembly Roxy (Upstairs) from 31st July –25th August (not 6th, 13th, 20th).
Knot will be performed daily at 14:45 at the Assembly Roxy from
July 31st to August 5th, August 7th to 12th, August 14th to 19th, and August 21st 25th. Tickets available from the Fringe Box Office.