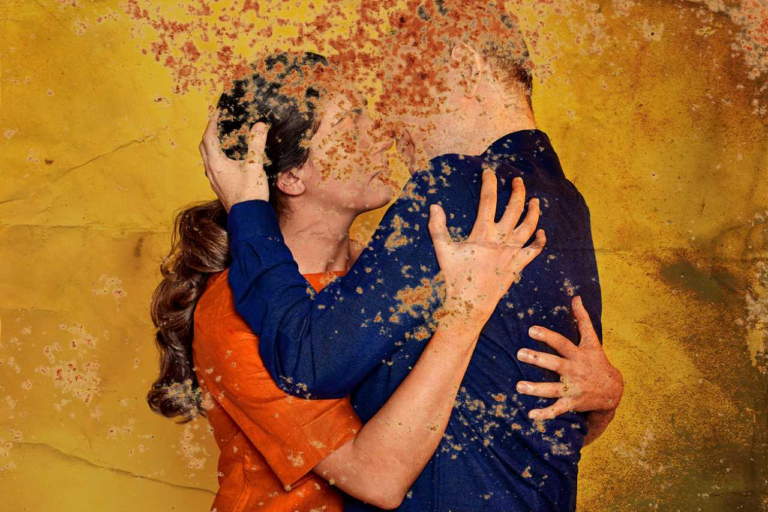 It is our pleasure today to talk to Kenny Emson, writer of Rust. His play is about a couple, Nadia and Daniel, with a secret. They have just signed up to rent a new studio flat but under a pseudonym. This is their chance to wipe the slate clean and start anew – but as much as they try to redefine themselves, the outside world closes in. Over to Kenny, to tell us more!
Can you introduce yourself and your show?
I'm Kenny Emson, the writer of Rust. Humble brag, I've won a couple of awards and been nominated for a BAFTA (which I didn't win, boo hiss). Rust is a co-production between HighTide Theatre and the Bush Theatre. Spoiler: It's about a long-term affair.
What is the top reason people should see the show?
It's funny. It's sexy. It's definitely more fun than walking up to Arthur's Seat (no matter what people tell you). And that's three top reasons for the price of one.
What does a 'successful Fringe run' mean to you?
That we find an audience for the show that engage with its characters and themes. That we entertain them. That we make them laugh. And cry (at the bits they are meant to cry at!)
What 3 top tips have you got for Edinburgh Fringe first timers?
Eat. Drink. Be Merry. In that order. Daily.
This show forms part of HighTide and Assembly's #Disruptionfest. Could you briefly give the background to that and how the shows were chosen for the programme?
Rust is part of Disruption Festival. #Disruptionfest demonstrates HighTide and Assembly Festival's shared vision for new writing as a space of political, contemporary and provocative work, created by new, diverse artists. The season was programmed through a mix of open call outs and existing relationships with artists.
What key message do you hope comes across to your audiences?
It's a show about love, about how that visceral emotion can make people do crazy things that can destroy lives. Hopefully our audience will understand and empathise with those decisions and come onboard for the ride with the characters.
Rust focuses on a couple who wish to start again after 10 years of married life, One hears of individuals running away to start a new life, but rarely, if ever, of couples. Why do you think that is?
The cost. It must be hard enough for one person to chuck in their life and start again. To have two people commit to that and follow it through is a huge thing.
Is the Edinburgh Fringe still relevant or does it too need to rent a hypothetical flat, rename itself and renew, like the characters in 'Rust'?
Edinburgh will always be THE fringe festival. Since the first time I came it's always a highlight of the calendar. My liver can testify to that.
How are you promoting your show in the run up to the Fringe?
Rust opens at the Bush Theatre in London on 26th June – 27th July prior to transferring to the Fringe. We have a slick new trailer coming out, plus content from behind-the-scenes which can be seen on HighTide's social media accounts: 
Twitter: @_HighTide_
Facebook: HighTideTheatre
Instagram: hightidetheatre
Lastly do you want to tell us where and when we can see the show?
You can see Rust at Assembly Roxy Downstairs from 31st July – 25th August (except 12th) at 12.40.
If you're not in Edinburgh, it plays at the Bush Theatre June 26th June – 27th July or in HighTide Aldeburgh Festival from 10th – 15th September.
Rust will be performed daily at 12:40 from July 31st – August 11th, and from August 13th-25th at the Assembly Rooms (Downstairs/ Venue 139). Tickets available now from the Fringe Box Office.